New Zealand v England: Ben Stokes 'emotional' after victory in second ODI
Last updated on .From the section Cricket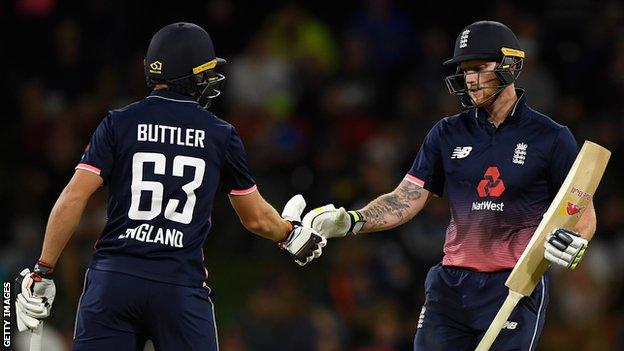 Ben Stokes said he was "emotional" after being named man of the match in his second game back for England.
He took 2-42, claimed two run-outs and made 63 not out as England beat New Zealand by six wickets in Tauranga to level the one-day series at 1-1.
Stokes, who faces a trial for affray over an incident in Bristol in September, returned after five months out in Sunday's series opener.
"I wanted to make sure I wasn't letting anyone down," said Stokes, 26.
The all-rounder, who came to the crease with England 86-3, helped seal victory with 12.1 overs to spare at Bay Oval.
"Our team are so close that it felt like I'd never been away," he told BBC Test Match Special.
"I kept in contact with everyone and then coming back into the changing room was really easy. We've got a brilliant team and they just made it feel as normal as ever.
"Personally, there was a bit more emotion than there normally is because that's where I've been working to whilst I've been at home, so it was a really good feeling walking off at the end."
Stokes missed England's tour of Australia and appeared in court this month on a charge of affray. He is contesting the charge.
The first hearing of his trial is scheduled for 12 March in Bristol, although he is not required to return to the UK to attend it.
Stokes, who played six games for Canterbury in New Zealand domestic cricket in December, said he had been doing "plenty" of training during his absence from the England side.
He made 12 and took 2-43 in the first one-day international.
"I don't give myself any excuses of easing myself into anything," he said.
"I expected to play a full part from the first game back and I don't think Eoin Morgan would have expected anything else as well."
Captain Morgan, who made 62 and shared a fourth-wicket stand of 88 with Stokes, said England benefitted from having the all-rounder's "big character" back in the team.
"He lifts everybody in the side when he plays like that so it's great to see him back in fine form," said Morgan.
England fielding was 'simply unbelievable'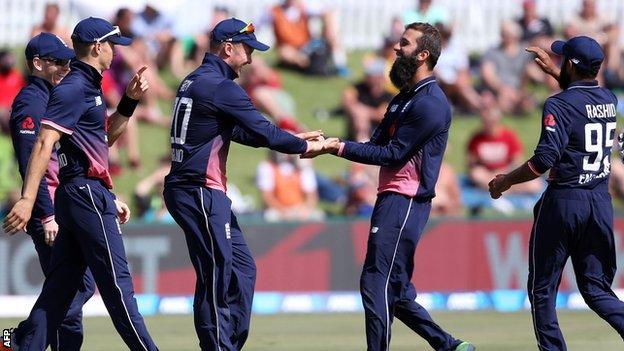 England's convincing victory in the day-night encounter was helped by an impressive fielding performance,.
Morgan was critical of England's fielding in the series opener, but England claimed four run-outs and took three excellent catches in bowling New Zealand out for 223 on Wednesday.
"Sometimes fielding can get a little bit not talked about as much as bowling and batting performances, but the way that everyone fielded was simply unbelievable," Stokes said.
Morgan added: "We certainly raised our level of intensity and set the tone early on with the ball. That was backed up by our efforts in the field.
"It's as good a fielding performance as we could have ever hoped for."
The third game of the five-match series takes place in Wellington at 01:00 GMT on Saturday.