Cricket Ireland announce plan to build new stadium in Dublin
Last updated on .From the section Cricket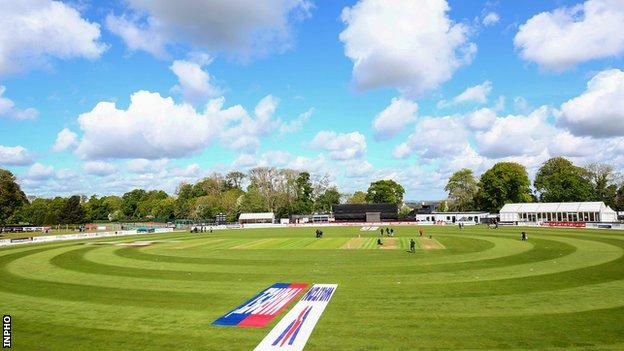 Cricket Ireland has revealed plans to develop a new permanent stadium in west Dublin.
The board has voted to pursue the creation of a new national cricket stadium at the National Sports Campus.
Irish internationals have traditionally been staged at Malahide or Clontarf in Dublin, Stormont in Belfast or Bready in County Tyrone.
The board has also announced an additional six limited-overs matches against Afghanistan in 2018.
The three Twenty20 internationals and three one-day matches will be held at Bready and Stormont from 20-31 August.
The board, which has also approved its largest annual operational budget of 9m euro, has announced a number of significant decisions in the wake of Ireland's elevation to Test status.
"Cricket in Ireland is entering an exciting new phase, as we begin to understand more and more the implications and obligations of becoming an ICC full member," said CI chief executive Warren Deutrom.
"We anticipate that the new future tours programme [FTP] will be finalised by the ICC in April this year. It is likely to involve the senior men alone playing about 60 home matches over the next five seasons.
"What has become abundantly clear to the board is that this dramatic increase in our home schedule means that we will need to share the load beyond our four existing international-standard grounds around Ireland."
Stadium relocation
The decision to relocate to the National Sports Campus follows a review of Cricket Ireland's previous plan to redevelop the Malahide cricket ground to become their main national stadium.
A report recommended the move to the green-field site where it will be located next to Cricket Ireland's new administrative office, which is under construction, and other world-class training facilities already available on the campus.
"The report informed the board's deliberations around a number of important issues around venue access and future-proofing," added Deutrom.
"When we selected Malahide as the location for our main stadium in Dublin a decade ago, Irish cricket was in a very different position with a much smaller fixture list.
"By achieving Test status and joining the FTP, we've had to ask ourselves the tough question of whether that decision is still fit for purpose."
Expanding calendar
Ireland v Afghanistan - August 2018

Twenty20 international

Bready CC

20 August, 16:00

Twenty20 international

Bready CC

22 August, 16:00

Twenty20 international

Bready CC

24 August, 16:00

One-day international

Stormont

27 August, 10:45

One-day international

Stormont

29 August, 10:45

One-day international

Stormont

31 August, 10:45
Ireland's historic first Test match against Pakistan on 11-15 May will be the stand-out fixture of 2018 but the six-match series against Afghanistan is the latest high-profile addition to the calendar.
Graham Ford's side will also host India in two Twenty20 internationals in June.
"What has also become clear in compiling our very first 'full member' budget has been the onerous cost of being a Test nation, most obviously demonstrated in physically putting on a Test match," added Deutrom.
"This is certainly no surprise, but ensuring we balance the cost of putting on Test matches against investment in the white-ball formats and other strategic areas will be an area for board focus in the near future."