Heather Knight column: What next for women's cricket after 2017's 'coming of age'?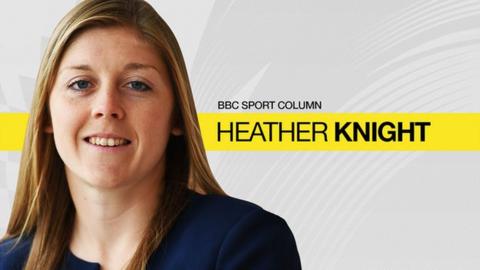 Heather Knight will lead England in a Twenty20 tri-series also featuring Australia and hosts India between 22 and 31 March, before England remain in India for three one-day internationals in early April.
Looking back...
Last year was a pretty special year. Not just for the team and for me personally but for the overall women's game.
I think it's too early to say whether 2017 will be the year we look back on as the catalyst for our sport - what happens in the next five years or so will do that - but I'd hedge my bets that it will be the one that we look back on as the year when women's cricket came of age.
Following on from the World Cup in England, the Women's Ashes carried on the momentum. The series was unrecognisable to the one we played in Australia four years ago when there were literally more English supporters than Australians at the Test match in Perth.
This time round attendances rocketed across all three of the formats and the interest grew massively. The cricket played by both teams was also of a high standard, which obviously helps.
That final Twenty20 game at Canberra saw some of the best T20 batting I've witnessed. Our win meant the series finished level on points (with Australia retaining the trophy), and although we were gutted to not bring the Ashes home, we were able to hold our heads high having come from behind to level the multi-format series.
...and looking forward
So the big question is: what next for women's cricket? One thing I'd love to see is a fixture list with more international games.
The ICC Women's Championship has been one of the big factors in the standard of cricket increasing, with more structured cricket for all countries, but there are still big gaps in the calendar.
We've decided to organise this tour to India outside the ICC Championship structure, or we would have been faced with no international cricket for six months.
The first stand-alone Women's World Twenty20 will happen in November in the West Indies and I think that is a great step. When they have taken place alongside the men's events in the past, the women's tournaments have played second fiddle.
This tri-series in India is all about preparation for that World T20 as we haven't played a lot of T20 in the past few years as an international team, so we're trying to find the best players who can make an impact in that tournament.
And with the ODIs not counting for ICC Championship points, this tour's the perfect opportunity to blood a few young players and try a few new things.
Meanwhile, it's great that Australia are giving equal billing to the men's and women's finals of the World T20 in 2020 with the aim of hosting a record crowd for a women's sporting event - on International Women's Day no less. Let's hope we're in the final to be a part of that.
In terms of progress on the pitch, I think we've seen massive skill-level increases - particularly with the bat - across the board in women's cricket. Over the next few years I think we'll see the bowling skill levels catch up.
With batters having so many more shots in their lockers and more of a fearless attitude, I think bowlers will find a way to counter that more and more - it's no fun getting whacked, trust me!
Sports Personality, Wisden and honours
As a kid I'd always love watching the BBC Sports Personality of the Year awards and dreamed of being there one day. So to have captained a side that won the Team of the Year award is a pretty special feeling.
Also, it's just incredible that we had a female cricketer on the shortlist for the main award. It really shows the strides our sport has taken and I was so proud of Anya Shrubsole. The funny thing is, she is the sort of person who would have hated all the attention, but she deserves it after that special spell in the final on 23 July.
We'll also have to keep a few copies of Wisden now that she's on the cover. Another amazing honour for her, for women's cricket and for women's sport in general.
I was also shocked and honoured to be appointed OBE in the New Year Honours list. It would have been lovely to see all the team recognised as everyone contributed to that win at Lord's, but it was a nice end to the year all the same and further recognition for everyone involved in our success.
Thanks to everyone who's helped me along the way to get there.