Cameron Bancroft: Australia player admits to ball-tampering, Steve Smith knew in advance
Last updated on .From the section Cricket
Australia's Cameron Bancroft has admitted he tampered with the ball during the third Test against South Africa - and captain Steve Smith says he knew of the plan in advance.
Television footage showed Bancroft take what he said was yellow tape out of his trouser pocket before rubbing the ball.
The 25-year-old said after play he had been charged with attempting to change the condition of the ball.
Smith said it was a "big mistake" but added he would not stand down.
He said the team's "leadership group" had spoken about it and "thought it was a way to get an advantage".
South Africa ended the third day in Cape Town on 238-5 in their second innings, a lead of 294 runs.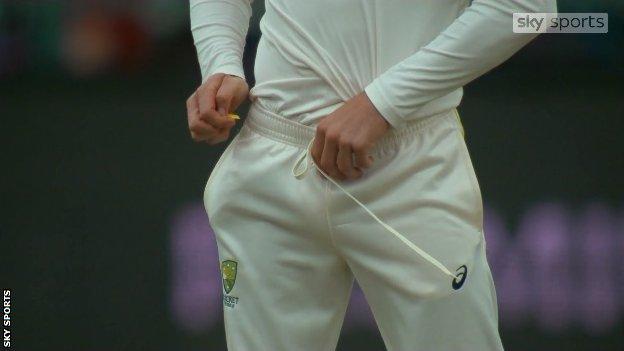 What else did they say?
Speaking at a news conference after the day's play, both Bancroft and Smith apologised.
"I will deal with the damage that comes to my reputation as a consequence," Bancroft said. "I don't think I was coerced. I was nervous about it because there are hundreds of cameras around.
"Unfortunately I was in the wrong place at the wrong time. But I am accountable for my actions as well. I'm not proud of what has happened.
"I saw an opportunity to potentially use some tape and get some granules from the rough patches on the wicket and I guess try to change the ball condition.
"It didn't work. The umpires didn't change the ball. Once I was sighted on the screen having done that I panicked quite a lot and that obviously resulted in me shoving [the tape] down my trousers."
Smith added: "We made a poor choice. We deeply regret our actions. Coaches weren't involved. It was purely the players in the leadership group.
"I can promise you it won't happen again. It's the first time this has happened.
"We will move on from this and hopefully learn something from it. I'm embarrassed. I feel for Cam. It's not what the Australian cricket team is about. I am incredibly sorry.
"It's a poor reflection on everyone in that dressing room and particularly the leaders in the group."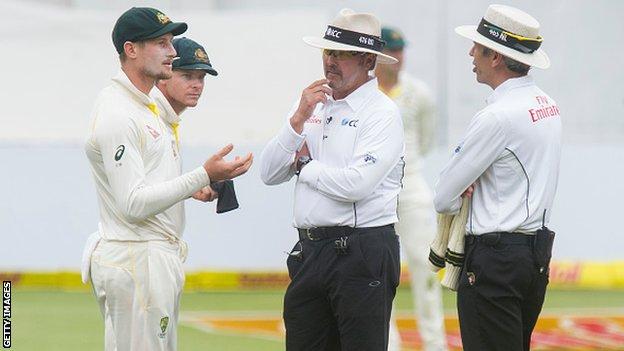 How the incident unfolded
When the ball was thrown to him, television footage showed Bancroft take an object out of his pocket before rubbing the ball, then putting something back in his pocket.
After footage of the incident was broadcast, a message appeared to be sent out to him on the field. He put the tape down the front of his trousers before being spoken to by on-field umpires Nigel Llong and Richard Illingworth.
At that point he turned out his pockets, revealing only a black cloth.
The umpires did not change the ball, and images of the incident on the big screen resulted in some booing from spectators.
Australia legend Shane Warne tweeted he was "very disappointed with the pictures".
How the cricket world reacted
Former England captain Michael Vaughan on Twitter: "Steve Smith, his team and ALL the management will have to accept that whatever happens in their careers they will all be known for trying to CHEAT the game."
Former England spinner Phil Tufnell on Twitter: "Sandpaper in the old jockstrap - tricky place to keep it oooh!"
BBC cricket correspondent Jonathan Agnew: "Laws of cricket: 'The major responsibility for fair play rests with the captains...' Smith has admitted not merely cheating, but planning to cheat. Everything else in that ill-tempered series is irrelevant to this. By his own actions, Smith's position as captain is untenable."
Fox Sports cricket journalist Tom Morris: "I'm not sure how Australia can have a national captain that has openly admitted to cheating. Cricket Australia must be strong, even though it will hurt."
Indian news anchor and author Rajdeep Sardesai: "Time to have a red card in cricket: sorry but Bancroft and Smith should be sent off the field, Aus play rest of the game with 9 players, Lehmann sacked. No option left now... this is worse than underarm bowling all those years ago and surely worse than 'banter'."
Former Australia spinner Shane Warne to Sky Sports: "You can't have that in the game. I don't have any issue with anyone if they are sucking on a mint or chewing some gum, that's just natural saliva. But if you use a foreign object then that has to be seriously looked at."
What else has happened in the series?
Saturday's incident is the latest twist in a fractious four-match series in which several players have already been sanctioned by the International Cricket Council (ICC).
Earlier in the Test, Australia opener David Warner was confronted by a spectator as he returned to the dressing room after being dismissed.
The tourists' coach Darren Lehmann later criticised the "disgraceful" verbal abuse directed at his players by the South African crowd, and Cricket Australia sent a letter of complaint to Cricket South Africa.
Former England captain Michael Vaughan tweeted that made him "chuckle", prompting an exchange with Candice Warner, the wife of Australia's vice-captain.


Following the first Test, Warner and South Africa's Quinton de Kock were charged by the ICC after an altercation in a stairwell on the way back to the dressing rooms.
South Africa pace bowler Kagiso Rabada was then banned for two matches after being found guilty of deliberately making contact with Smith during the second Test, but successfully appealed.