New Zealand v England: Nothing learned from Ashes defeat - Graeme Swann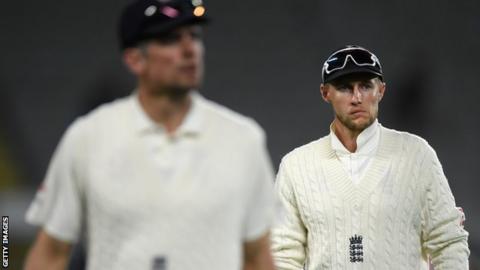 Former England spinner Graeme Swann claims Joe Root's side have not learned from their Ashes thrashing following their first-Test defeat by New Zealand.
England lost by an innings and 49 runs in Auckland in their first Test match since a 4-0 series loss to Australia.
Swann, who took 255 wickets in 60 Tests, was particularly critical of England's "toothless" bowling attack.
"They've picked four right-arm seamers doing the same job," Swann told BBC Test Match Special.
"I'm worried James Anderson and Stuart Broad are being made to bowl the donkey overs, because they haven't got anyone else threatening to take wickets."
Swann believes there is not enough variety in England's seam attack while all-rounder Moeen Ali's spin is not currently up to the required standard.
England have not taken 20 wickets this winter after five defeats in their past six Test matches.
"At the moment they're carrying the spinner, and carrying a couple of bowlers who aren't really threatening. They need to find some pace or a left-arm seamer from somewhere.
"Joe Root talked about rational decisions, but they're not making them at the moment. He needs a change of pace or a different angle to back up Anderson and Broad.
"He needs a spinner who can plug up one end and take wickets, and I'm sorry but that's not Moeen Ali at the moment."
'Why on earth has Stokes done that?'
England had frustrated New Zealand with the bat in the second session of the final day when Ben Stokes and Chris Woakes were at the crease.
However, the former gave his wicket away three balls before the dinner break in what Swann described an "appalling" dismissal for the all-rounder.
"It was a Ben Stokes we'd never seen before - his slowest Test fifty, a rearguard effort. But New Zealand managed to rile him and get him out," Swann said.
"[New Zealand bowler] Neil Wagner got their adrenaline going and when you see Ben Stokes' shot, you'll think 'why on earth has he done that?'
"Stokes has smashed the door down for New Zealand. There was no need to play the shot.
"He had batted beautifully. It was is an appalling dismissal. I can't believe he has played that shot."