New Zealand v England: England must make changes for second Test - Jonathan Agnew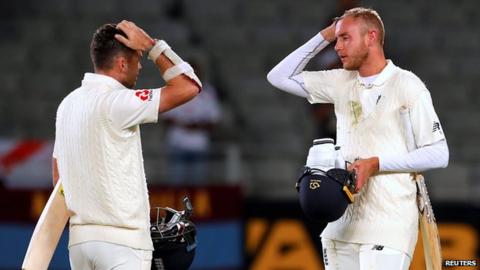 When a team is bowled out for 58 in the first innings as England were in Auckland, you are always going to lose unless something miraculous happens.
Sadly I don't think this England team is capable of producing anything miraculous at the moment.
England fought hard on the final day of the first Test. Most of the batsmen got in and they didn't bat recklessly but this is only the 10th time New Zealand have beaten England in a Test match, and that puts the result into context.
It is exactly five years since England managed to save the game on the final day against New Zealand thanks to Matt Prior's century but a repeat performance always felt unlikely.
The players have played lot of cricket and have been away a long time but they have got to lift themselves for one last effort in the second and final Test.
If they fail to win in Christchurch it will cap a very disappointing tour.
'England have to change something'
I think England should play spinner Jack Leach in the second Test instead of Moeen Ali. They have to change something.
They could also play fast bowler Mark Wood, instead of Craig Overton. Seamers Stuart Broad and James Anderson are as good as ever but there is no variety - there is no X-factor. In this Test England had nothing that was going to surprise New Zealand. It is a very one-dimensional bowling attack.
They need someone that Joe Root can throw the ball to who is different to the four seamers who are running in and bowling the same sort of stuff.
People will say it is the batting that has let England down in this match so why am I talking about changing the bowlers? To an extent I understand that, but England don't have the batting personnel to bring in.
They have got to go with what they have got. I don't see any point bringing in James Vince, for example.
Stokes impresses but problems remain
I said before the match that England had a bagful of points to prove and I think all those question marks remain.
Opener Mark Stoneman played a really poor shot to get out in the second innings, Alastair Cook looks like he is struggling, Moeen doesn't look like taking a wicket and the other bowlers I have already talked about.
One player who cannot be knocked for his performance on the final day was Ben Stokes.
There is a lot of talk about whether he should be here but that is for other people to decide. Today he worked very hard for his 66 until he succumbed to another short ball from Neil Wagner, who seems to wind people up and make them play reckless shots.
As a whole New Zealand looked a real Test team.
I said their bowling attack with the pink ball under lights could be better than England's and so it proved. Trent Boult is a wonderful bowler with good pace, bowls a good length and swings the ball, while their batsmen got in and scored hundreds.
Test cricket how it should be
After everything that has gone on in the game in the past few days with the Australian ball-tampering scandal, it was good to get back to cricket today.
What we saw throughout this Test match, and what we always see in Test cricket between England and New Zealand, is the proper definition of playing hard but fair.
It is a line we hear all the time from across the Tasman but their idea of fair is not what everyone else's is.
It is all about respect. You respect your opponents, your team-mates and the sport, and that is the definition of playing hard but fair.
Jonathan Agnew was speaking to BBC Sport's Matthew Henry.