Glamorgan could be debt-free in three to four years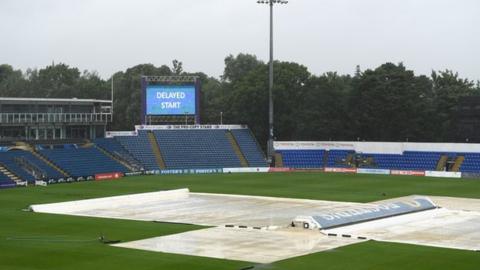 Glamorgan could be out of debt in three to four years, the county's annual general meeting has been told.
Stadium redevelopment saw Glamorgan's debt reach a peak of £17m but that total has been reduced to around £2.5m.
The club has been able to repay its debt to the Allied Irish Bank early, thanks to a controversial payment from the England and Wales Cricket Board.
Glamorgan received £2.5m for not bidding for Test cricket in the period between 2020-24.
'Strategic decision not to bid for Tests'
The England and Wales Cricket Board has commissioned a review into the £2.5m Glamorgan received for not applying to host Tests between 2020 and 2024.
The "external review" follows a meeting between the ECB and representatives from all 18 first-class counties.
Glamorgan say they did not even think they could attract a top Test.
"It was a strategic decision not to bid for Tests. We were convinced we wouldn't get the Ashes or India," chairman Barry O'Brien said.
A weather-hit Test match against Sri Lanka in May 2011 almost resulted in the county's bankruptcy because of poor attendances, forcing them to negotiate a debt write-off with Cardiff Council, Allied Irish Bank and late former chairman Paul Russell.
Reporting a net profit of £3.5m for 2017, treasurer Mark Rhydderch-Roberts told the meeting that he anticipates a "small loss" in 2018, when Cardiff will host two days of international cricket, but a "significant profit" in 2019, when around four World Cup matches will be played there.
In 2017, four matches in the ICC Champions Trophy, including an England v Pakistan semi-final, contributed a net £1.98m pounds to the county's coffers.
Profits from sponsorship, hosting conferences and other non-sporting events rose, but income from county membership and the rain-ruined T20 schedule fell.
"We're a country of 3.1 million people and have the ability to grow the game to as big an audience there is in England and Wales.
"We've dropped off the map as far as being the national summer sport is concerned, we want to make sure we get as many boys and girls playing the game as we possibly can, and we feel the best way of doing that is to go with the strategy of becoming the white-ball venue of choice."
Marsh full-time
Meanwhile Australian Test batsman Shaun Marsh, who was not implicated in the ball-tampering scandal in South Africa, could now spend the whole summer with the county.
Australia now have no Test matches scheduled during the UK summer, with proposed matches against Zimbabwe and Bangladesh falling through.
But South African batsman David Miller will not be re-joining the county for the T20 Blast after helping them to reach Finals Day in 2020, as he has signed to play in the Caribbean Premier League.
Glamorgan are in "advanced stages" of negotiations to sign a second overseas player for the short format.