New Zealand v England: Change can be good - and this team has a fresher look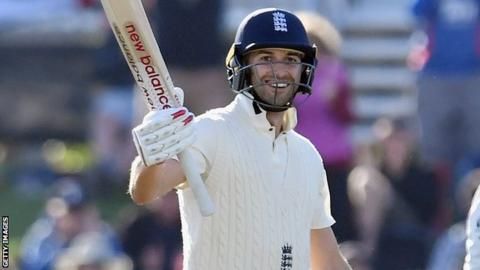 For a moment, it looked like England were going to be collapsing in a familiar heap but a fresh approach from a returning face, and some help from a new one, showed one way in which changes are good for a team.
Some people ask, if the batting has failed, why change the bowling?
Sometimes it's hard to square that argument, but I just felt this England team has a much fresher look to it.
You've got people who haven't played for a while or, in Jack Leach's case, someone on debut who wants to seize this opportunity and show what they can do.
Wood plays with a smile on his face
It still wasn't a great day for England, but it could've been far worse.
It was interesting New Zealand put England in to bat when there wasn't a cloud in the sky. They didn't put England in because of the conditions, they put them in because they fancied knocking them over, and at 94-5 it looked as if they might.
The second half of the day was a very good one. Jonny Bairstow batted well, as did Ben Stokes, and Mark Wood showed a lot of guts and enterprise. There was a lot of fight there.
Wood does play with a smile on his face and that's nice, especially with what's being going on in international cricket at the moment. He goes out and enjoys himself but that doesn't mean he's not trying.
England's bowling attack needs shaking up. The attack needs to be more than just four similarly paced seam bowlers running in. Wood is refreshing and I'm looking forward to seeing what pace he can generate.
It's also the right thing to play Leach and to drop Moeen Ali. It's a great chance for Leach to show us what he can do.
They need to move on from Moeen as the spinner - he's still a classy batsman - but England need something different about their bowling attack. With Wood playing with pace and Leach with left-arm spin, they've got that now.
For now, England have got to try and win here and their score at the moment leaves the bowlers with a lot of work to do, which has been a familiar tale this winter. But they have got some fresh legs and a new face in there - let's see what they can do.
Questions remain about top order
With the start of a new season back home coming up, there is a great chance for young top-order batsmen to make a name for themselves.
There are a few issues about the top order. Can Alastair Cook get some form back? His dismissal - bowled by a half-volley, trapped very deep in the crease - is a worry. He's got to really get that footwork going and get the bat coming through straight. He'll be disappointed with how he got out.
Mark Stoneman showed great determination, because he never looked very settled, but will he continue? And then the number three situation with Root dropping down to four again.
Root much prefers batting at four and, if that's the case, you can't mess your leading batsman about. Number three is not his issue. England have got to find somebody who can perform there.
James Vince showed the same again. He played a few nice shots but there was no way his bat was going to make contact with the ball that he missed to be lbw. He's got lots of lovely shots but he's been found wanting at this level.
On the positive side for England's batsmen, Bairstow is very good where he is in the order.
He played very sensibly at the end. It's tempting for a batsman three away from a century to go chasing it and get out but Neil Wagner bowled him a full over of bouncers and he just waited. He'll come back tomorrow and hope to score his fifth Test century.
Leach looks a pretty decent prospective nightwatchman - he's got a nice technique and plays the short ball well. He's certainly no mug with the bat.
New Zealand bowled a lovely length on that pitch - just a bit fuller than England do - but the bowlers didn't really get a lot of help.
Christchurch is a beautiful setting and a wonderful place to watch cricket. It's important England get to 350 and beyond if they can and that this slightly reformed attack go hunting wickets.
Jonathan Agnew was talking to BBC Sport's Jack Skelton.