New Zealand v England: Stuart Broad back to best, but top-order issues remain - Agnew

By Jonathan Agnew
BBC cricket correspondent
Last updated on .From the section Cricket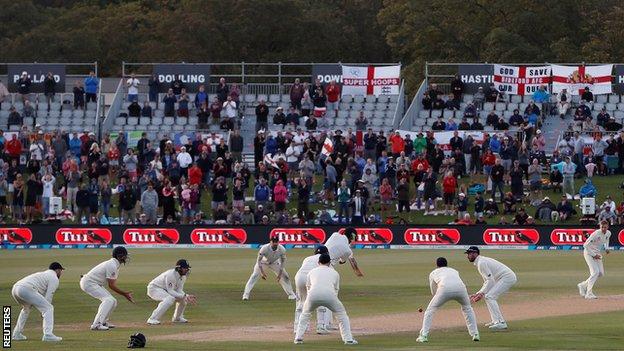 England's new national selector - whoever that may be - has got a real job on their hands after the team's performances this winter.
The person appointed to pick the team - alongside two others, one of whom will be Trevor Bayliss - has got a number of decisions to make, beginning with the top order and Mark Stoneman as opener and James Vince at number three.
Then there is Alastair Cook who, apart from a double hundred at Melbourne, has not had a good winter. I'm not for a moment suggesting he's going to be dropped but there is concern over his form.
I suspect the national selector will lean quite heavily on England coach Bayliss, who gave Stoneman and Vince a pat on the back after the drawn second Test against New Zealand in which they put on 123 together in the second innings.
But Bayliss did also say the door is open for people who get runs at the start of the county season.
It's a great opportunity for somebody to get some large scores in April to give them a chance to be recognised before England face Pakistan at Lord's on 24 May.
The best thing about England's winter overall was their white-ball cricket. They beat both Australia and New Zealand in the one-day international series and will probably start next year's World Cup at home as favourites.
I did not see all of the Ashes but the reinvigoration of Stuart Broad in New Zealand is perhaps the best part of the winter for England's Test side.
It is always tempting to say when somebody who has been struggling gets a few wickets that they are all right again, but Broad does seem to have genuinely returned to his best - bowling at 87mph and getting the ball away from right-handers and into the left-handers.
In the two Tests, he took 11 wickets at an average of 18.54 and looked like his old self - all that hard work he put in between the Ashes and coming to New Zealand has been really good. I know he's thrilled with the way he's bowled.
James Anderson looks set to continue and I'm sure he'll get a load of wickets this summer. But the bowling behind Broad and Anderson is a real worry. In the seven Tests across the Ashes and New Zealand, those two took 47 wickets at 29.82, while everyone else got 34 wickets 72.85.
Ben Stokes obviously didn't play in the Ashes and couldn't bowl properly in New Zealand because of a back injury. Mark Wood spent most of the second Test in Christchurch banging it in halfway down the pitch and his fitness will be an issue. There doesn't seem to be an awful lot coming in behind.
England will need to look at their tactic of short-pitched bowling, because their bowlers lack the venom of genuine quicks like Pat Cummins and Mitchell Starc.
You have to really give New Zealand's lower order a lot of credit in drawing the second Test - Colin de Grandhomme, Ish Sodhi and Neil Wagner batting 60 overs between them was a very good effort. But England bowled a lot of short balls at Sodhi and Wagner in particular that seemed to have no impact.
England might have used the part-time of leg-spin Dawid Malan a little bit earlier, just to do something different, but Joe Root did pretty well - he got his bowlers to change ends, with Jack Leach coming this way and that and showing promise in his first Test.
The Somerset spinner bowled a bit too full, on a length that was quite easy for a batsman looking to just knock it away, but he was being asked to help win the game on his debut so that's understandable.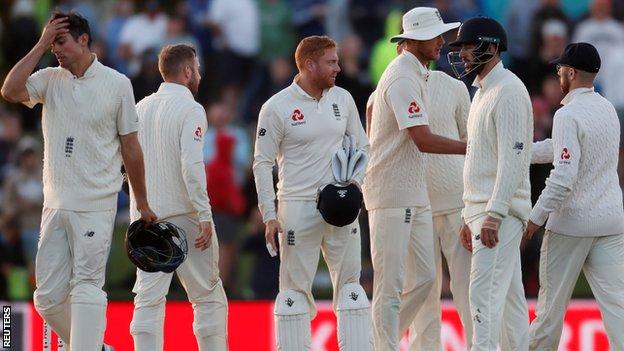 England ran in hard but they dropped chances - Sodhi was dropped on nought, De Grandhomme was dropped on six and Latham was dropped on day four. If you put down chances on a flat pitch, you will struggle to win the game.
As captain this winter, Root has done OK - it's been a very tough tour for him. He's learning the job as he goes and that's really hard. It would've been nice for him to have won the second Test to give him some confidence instead of returning home disappointed.
Captains always question their own performances and the decisions they have taken. In the seven Tests, he hit seven fifties but did not convert any into a hundred. That will be infuriating him, but I suspect once he gets one the floodgates will open.
It's not anything technical, he's just got to get himself over the line again and his confidence will be restored.
But overall, he looks to be a man in charge of his team.
Jonathan Agnew was talking to BBC Sport's Jack Skelton.