Glamorgan Cricket: Hogan wants to prevent nerves at Lord's setting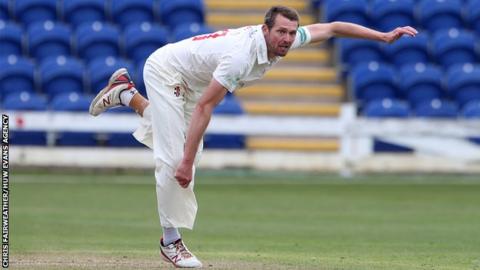 Glamorgan captain Michael Hogan wants his players to concentrate on the game rather than the venue, as his team pay a rare Championship visit to Lord's.
Middlesex and Glamorgan have been in different divisions since 2011.
"It'll be exciting for the boys but I think we need to park what the venue offers and go there to win a cricket match," said Hogan.
None of the likely team for the 2018 clash played in their last four-day trip there.
Glamorgan won that game by nine wickets, with Welsh batsmen Ben Wright, Will Bragg and Gareth Rees as their main contributors, while Middlesex seamer James Harris claimed eight wickets in the match in Glamorgan colours, among them England opener Andrew Strauss.
Harris, Toby Roland-Jones and Tim Murtagh all suffered fitness problems during Middlesex's defeat against Derbyshire in the second round of the Championship, while Glamorgan beat Gloucestershire by six wickets.
"We will (be discussing the venue)... there's so much history there, the boys are excited to go but the boys need to be clear what we're actually going up there for," Hogan told BBC Sport Wales.
Many of Glamorgan's limited-overs games up the M4 have been away from Middlesex headquarters as well, with Richmond and Radlett being used in recent years.
"To try to avoid the potential butterflies that players have at Lord's would be wrong, but we'll be going there Thursday to train, so that gives people an extra opportunity to get accustomed to the environment," explained head coach Robert Croft.
Curbing their appetite
Seven of the Glamorgan team for their opening game in Bristol were aged 25 or under, including batsman Aneurin Donald who failed to score in his only game at Lord's to date, representing an England Schools side.
"First of all, it's about trying not to over-eat, because I've heard the lunches there are pretty spectacular! I think everyone's pretty excited, the occasion and the ground itself bring everyone up another level, so it'll be nice to get to Lord's and hopefully rack up another one.
"Once you're out in the middle, it's 22 yards long, and the bowler's got his five and three-quarter ounce ball, so it'll be the same once you're out there. I think it'll take a few hours in the morning to get over it, but it's going to be a great experience and one I'm sure everyone will savour," said the former England under-19 captain.
"Middlesex are a big club and have been for years, there's plenty of strength in depth in their bowling attack, but the way we've gone this week (against Gloucestershire), there's no reason not to be confident."
Seam bowler Timm van der Gugten could come into the team to face Middlesex after a heavy work-load for front-line seamers Hogan, Marchant de Lange and Lukas Carey against Gloucestershire, claiming 19 of the 20 opposition wickets.