Sussex chief executive Rob Andrew argues case for County Championship conferences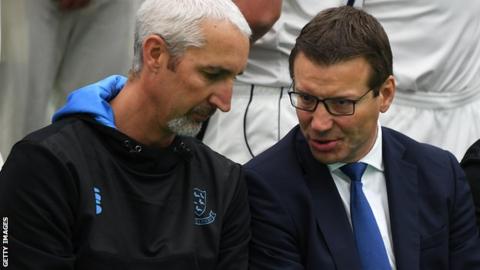 Sussex chief executive Rob Andrew says introducing conferences to the County Championship would create an "even playing field" in red-ball cricket.
Andrew feels promotion and relegation between the current two divisions does "little for the game in the long term".
An 11-person working group, including Sussex director of cricket Keith Greenfield, is to start looking at the domestic structure from 2020.
The ECB plans to make its new city-based competition a 100-ball format.
The Professional Cricketers' Association (PCA) will meet with the ECB on 8 May to share players' concerns about the new competition.
Some have expressed worries about where the 50-over domestic competition sits alongside the four-day County Championship, the new 100-ball tournament and the T20 Blast, which will continue in its current format.
Leicestershire chief executive Wasim Khan will chair the working group set with "refining the structure of men's county cricket that has been agreed for 2020".
Former Rugby Football Union director Andrew expects it will be "a challenge" to reach a solution.
"Nobody is saying it's going to be easy," he told BBC Sussex. "Cricket goes to a whole new level of complexity compared to rugby union.
"But, you need to have a debate and put all those things on the table and see if you can't shake the box."
Scrap two divisions for conferences?
Andrew has joined a number within the game who feel the current County Championship of two divisions - eight in Division One and 10 in Division Two - should be replaced by three conferences of six.
Currently, two sides are relegated from division one and two promoted from division two at the end of each season.
But how might a conference system work?
The first 10 matches of the season would see sides play the other five counties in their conference home and away (Conference A, B and C).
Teams will move forward to a play-off stage for the final five matches based on the standings from the first phase (Conference D, E and F).
An overall winner would then be determined from the top conference as well as league table for the 18 counties.
Standings would then help formulate how the conferences are drawn the following season.
Yorkshire chief executive Mark Arthur and director of cricket Martyn Moxon are also advocates of the system.
Moxon is also set to sit on the working group alongside England director of cricket Andrew Strauss and Warwickshire director of cricket Ashley Giles.
Removing the 'scramble' for survival and promotion
"I feel if you structure conferences the right way, everyone starts the competition thinking they can win it," Andrew said.
"All 18 counties start on a level playing field and are excited about their chances.
"I'm yet to have anyone fully explain to me the value of promotion and relegation in the County Championship and what it good it does for the game.
"From what I can see, people scramble to keep themselves in division one or get up from division two and make short-term decisions because of the pressure from members or sponsors.
"I think given the new competition that's coming in 2020, we have to get used to the fact that if we want to play red ball cricket right through the summer, we're going to have to play without players who get taken away to the IPL, Test duty or even the England Lions."
Andrew wants to see tighter conditions on overseas players to increase the number of English-qualified players in county sides to nine.
"We have to accept that counties are here to develop English players," he said. "If players get taken away to play in the 100-ball, we've got our next chance to see how strong our development system is compared to other sides.
"If you've got young spinners and young fast bowlers and you're not worried about promotion or relegations within a conference system, then you're going to play them."