PCA says dozen county players 'paid or offered terms below minimum wage'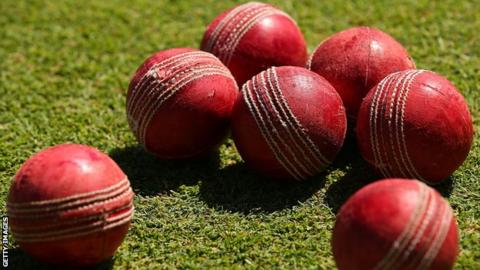 A dozen county players are being paid or offered terms below the national minimum wage, the Professional Cricketers' Association (PCA) says.
The PCA stated that six counties have used unapproved employment contracts in the past 12 months.
The players' union says it is working with the England and Wales Cricket Board (ECB) on the issue.
"It seems to me that some players are being exploited by their counties," PCA chairman Daryl Mitchell said.
"It is easy for players and in particular those just making their way in the game to feel under pressure to sign deals below minimum wage."
The national minimum wage in the United Kingdom begins at £5.90 per hour for 18 to 20-year-olds, rising to £7.38 for those aged between 21 and 24, and £7.83 for anybody over 25.
"Players can be influenced that if they do not sign, then their dream of playing professionally will be over," added Worcestershire batsman Mitchell.
"In the last 12 months alone, we have found nine players being paid under the national minimum wage and at least three others offered similar agreements.
"On top of which, we know at least six counties are using contracts different to the standard contract agreed with the ECB for use by all counties. We are fighting to stamp out unapproved contracts."
Business Minister Andrew Griffiths said that counties who do not pay their players the minimum wage could be fined.
"Employers abusing the system and paying under the legal minimum are breaking the law - regardless of what industry they work in," he told the Press Association.