Less is more for Ireland in Test arena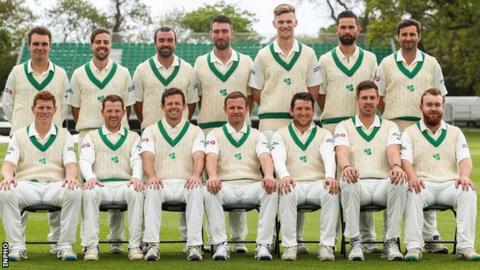 Test match: Ireland v Pakistan
Venue: Malahide CC, County Dublin Dates: 11-15 May Start: 11:00 BST
Coverage: Updates on BBC Radio Ulster and reports on the BBC Sport website
It was a bit of misnomer when Warren Deutrom was named chief executive of Irish cricket in 2006 - he was the only executive!
Ireland had three employees, with the Englishman joined by the men's senior team coach and a part-time PA.
Twelve years later and Cricket Ireland boasts 34 staff, annual revenue has jumped from 260,000 euro to 9.2 million and 20 players are on central contracts.
Success on the pitch, particularly those famous World Cup wins over Pakistan in 2007 and England four years later, was the catalyst for the revolution of the sport on the Emerald Isle.
The ultimate reward for consistent progress comes on Friday with Ireland's inaugural men's Test match against Pakistan at Malahide.
Deutrom - a former ICC events manager and marketing manager with the ECB - spearheaded Ireland's long battle for Test status and his persistence paid off.
The prize has been won but it remains to be seen if Test cricket will take root on an island where the sport still struggles to make the back page.
The 'blood and thunder' thrills of limited-overs cricket makes selling the five-day game a tough task beyond the purist.
And there are the cautionary tales of other Test rookies - it took Bangladesh 35 games for a first win while it was the little matter of 26 years before New Zealand tasted victory.
Deutrom is aware of the potential pitfalls... but believes he has the answer to ensure Test cricket is no poisoned chalice.
"Our view would be to play one or two Tests at home each year," said the 49-year-old.
"We've an opportunity to create a brand around its sheer rarity and market it as our foothold in the history, tradition and heritage of the game.
"When Zimbabwe and Bangladesh started they were having to play five to 10 Tests a year, which is very time consuming and very expensive.
"We're looking to play one, two or three Tests a year and that's going to be more palatable and more affordable for us.
"We want to market Test cricket in Ireland as a rarity and a real point of difference from the white-ball game."
The number of Test games may be limited but the move from Associate to Full Member status has given Ireland the opportunity to schedule up to 65 home internationals in the next five years.
The focus will remain on one-day and Twenty20 fixtures while a new national stadium is planned for Dublin.
The need for a ground fit for Test cricket is evident since Malahide - a village club on the outskirts of north Dublin - has merely a pavilion in terms of facilities.
Financial hit
Erecting temporary stands is just one of the costly necessities required to transform Malahide into a Test venue - it all adds up to a one million euro bill and Cricket Ireland taking a financial hit on a game they fought so hard to gain.
However, Deutrom is a strong advocate of Test cricket and argues that its presence in Ireland outweighs a monetary loss on the historic encounter against Pakistan.
"Test cricket is the best, it's the pinnacle format and still has the perception of the romance of the game - if we were not playing it we would not be playing the best format," he added.
"It was because of the allure of Test cricket that a number of Irish cricketers went to play for England, so we've removed that reason for moving.
"And it enables us to access matches, on the Future Tours programme, which we would not have had and that's the foundation of our business.
"It's very expensive but we are doing it for all these reasons and it's also a means to an end; namely to popularise cricket and try to make it a mainstream sport in Ireland."
There is also the human element of what a first Test match in Ireland means to the players set to walk out on Friday morning with the green shamrock on their chests.
Ed Joyce was one of three Irish players to switch allegiance to England in the hope of playing Test cricket - the dream never materialised and he returned to the fold in 2011.
Now, four months shy of his 40th birthday, the former Middlesex and Sussex batsman can finally savour the idiosyncratic joys of Test cricket.
"It will be an incredible feeling - I don't really have that long left in my career, so to finally get a Test match is fantastic," said the County Wicklow man.
"My first international appearance came in 1997 and I never thought I'd play a Test match for Ireland, so it's a great feeling.
"Ireland were nowhere near Test status when I was with England. To get here now is a 'pinch me moment'."