Billy Stanlake: Australia block fast bowler's Yorkshire T20 Blast move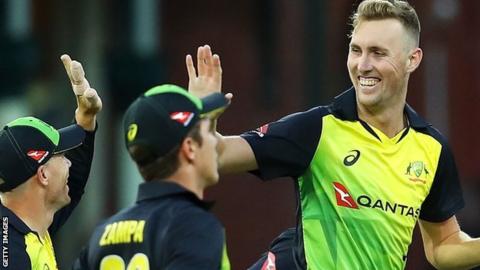 Fast-bowler Billy Stanlake will no longer join Yorkshire after Cricket Australia pulled him out of the move.
The 23-year-old had agreed to play a minimum of 12 T20 Blast games for the Vikings this summer, but Australia now want him to focus on other formats.
Stanlake has played two one-day and six T20 internationals for his country.
"They've pulled him out of our deal, which is obviously very disappointing for us," said Yorkshire director of cricket Martyn Moxon.
"Now the new Australia coach is in place, they want him to play some different cricket to T20 during the period he was due to be with us."
Right-armer Stanlake, who is centrally contracted, is recovering from a fractured finger which he suffered playing in the Indian Premier League.
He played the last of his two first-class games in 2015 but is now set to train with the Queensland Bulls and could feature in the Sheffield Shield later in the year in his native country.
"Cricket Australia got in touch on Friday and have decided on a different strategy for Billy Stanlake. We're not the only county, it would appear, who has been affected by this," Moxon told the club website.
"We'll assess the situation as to whether we go for a replacement or not. We may choose to stick with our own players."