Six former England players have been named scouts under new selection system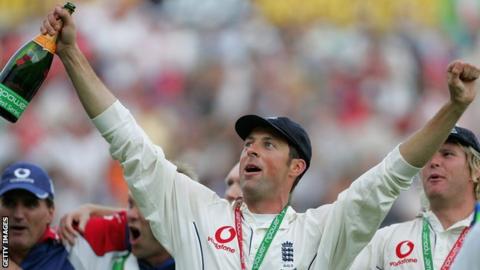 Six former England players have been named as scouts under the national team's new selection system.
Marcus Trescothick, James Taylor, Chris Read, Glen Chapple, Steve Rhodes and Richard Dawson will report to new national selector Ed Smith.
Smith replaced James Whittaker who left last month as part of a restructure.
The scouts will compile reports on potential England players and report to Smith, head coach Trevor Bayliss and a full-time England selector.
"[It will mean] many eyes, more time, more sight of players, more often, getting different perspectives to make judgements and assessments on these players to give us a better body of information that stays with us forever," England director of cricket Andrew Strauss said.
He added it was "formalising a process that has been going on in a more ad hoc manner for a long time".
Batsman Trescothick, who still plays for Somerset, was part of England's 2005 Ashes-winning team and played 76 Tests, 123 one-day internationals and three Twenty20s for England between 2000 and 2006.
Taylor played seven Tests and 27 ODIs before the batsman was forced to retire because of a serious heart condition and has since worked as a pundit, including for Test Match Special.
Wicketkeeper Read made 52 international appearances and retired from the game in 2017 at the end of his 20th season with Nottinghamshire.
Chapple played one ODI for England and is currently head coach of Lancashire, having played for the county since the age of 18.
Rhodes, who has 11 England Test caps and made nine ODI appearances, spent 33 years as a player and coach at Worcestershire but was sacked after an investigation into his conduct last year.
Former off-spinner Dawson is currently head coach of Gloucestershire and played seven Tests for England.
"They won't compile reports on their own players, if they are involved in a county," Strauss added.
Smith is still yet to name his full-time England selector, who must be independent from any county.
Strauss will step away from his role with the ECB this summer while his wife has cancer treatment and will be replaced by former England head coach Andy Flower.