Jonathan Agnew: New summer, same old problems for England

By Jonathan Agnew
BBC cricket correspondent
Last updated on .From the section Cricket
Clearly England did not bat well on the first day of the first Test against Pakistan.
I was out there before play began, when there were lots of discussions over what the team that won the toss would choose to do. The whispers I heard quickly suggested that England would bat and Pakistan would bowl.
There were lots of reasons for a team to want to field first. The pitch was green and there were clouds over Lord's. England, though, wanted to bat because of concerns about how dry the pitch might become later in the match - remember when Moeen Ali spun out South Africa here last summer?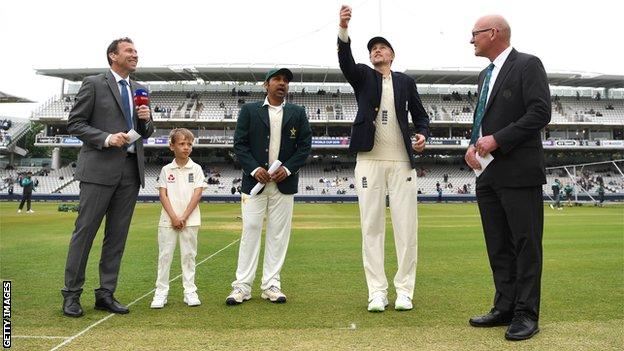 It is still possible captain Joe Root made the right decision but, if England are to win this Test, they are going to have to do it the hard way.
Even if the conditions were difficult for batting, they did not justify being 184 all out. With the exception of Alastair Cook, England simply did not apply themselves.
When you know that batting will be tough, that the ball might move around and your technique will be tested, you have to make sure that you don't give the bowlers any more advantages.
Hang in there, accept that 40-1 at lunch would be a good start. Make sure that you don't lose three or four wickets in the first session. Instead, England found themselves 43-3.
It was not just the perilous nature of the score, but the manner of dismissals that was again so disappointing. Too many batsmen contributed to their own downfalls.
Mark Stoneman played a wretched shot for an opening batsman, a crooked drive. Root threw the bat at a wide one. Dawid Malan played a nothing shot - a tentative prod - and, later on, Jos Buttler's slash resulted in a catch at second slip.
After all the talk of moving on from a difficult winter, of a different era and the excitement of a new batting order, it was an awful start to the summer.
England want to be positive and, in some ways, I understand that approach. But, on the other hand, the idea of a 'brand' of Test cricket makes me laugh because that is not how you play the game.
Sometimes, you just have to battle. On this occasion, too many England players got out playing attacking shots.
It's not like England haven't tried new things or different players, but the end result is often the same. Somehow, Trevor Bayliss and batting coach Mark Ramprakash have to get it into them that you can't play big drives to good balls on a green pitch. You will get out.
In Test cricket, you have to be adaptable. There are times when you have to get on with it but, mostly, you have to knuckle down.
The first day at Lord's was a time for England to be attritional. They fell short.
A tale of two openers
Cook, though, is excused from criticism.
I've said many times before that the tell-tale sign of Cook being in good touch is when he plays the cover drive.
Because we've seen Cook bat so often, there are occasions you can tell when he is unlikely to make a score. He can be crab-like, the feet don't go anywhere and the bat does not come down straight. We've seen a lot of that over the past 12 months, when he has made two double centuries and not much else.
On the other hand, there are times like today when you know he is set for a score. The feet are in the right place, the balance is good and the bat is straight. When he played an early cover drive it was easy to think 'runs for Cook today'.
The 70 that he made at Lord's was the type of Cook innings that we want to see. The challenge for the former skipper is to now rediscover his consistency.
In contrast, his opening partner Stoneman is regressing and looks completely bereft of confidence.
He managed two half-centuries in New Zealand, but he has had a terrible time for Surrey at the beginning of the season.
We may be getting to the stage where it is kinder to leave him out of the side because, at the moment, he does not look like a man who can make a hundred for England.
Perfect opportunity for Pakistan
Before this match I wrote about how an away team's preparations for a tour is usually found wanting in the modern game. I don't think England were properly prepared for either of their Test series over the winter.
Pakistan, though, looked ready for this match. They have played three games against counties and a hard-fought Test against Ireland. At Lord's, they showed themselves to be battle-hardened.
So often, sub-continental teams arrive in England and are rolled over because they are not used to the conditions. But give good players the right preparation and they will have the opportunity to showcase their skills.
That is what Test cricket is about, adapting to different conditions around the world.
Pakistan bowled well, took their catches, then came through a tough batting spell under floodlights at the end of the day.
On Friday and Saturday, the sun is forecast to shine and the pitch will get better for batting. At 50-1, 134 behind, they have a wonderful opportunity to earn a position of real strength.
Jonathan Agnew was talking to BBC Sport's Stephan Shemilt