England v Pakistan: Tourists told not to wear smart watches by anti-corruption officials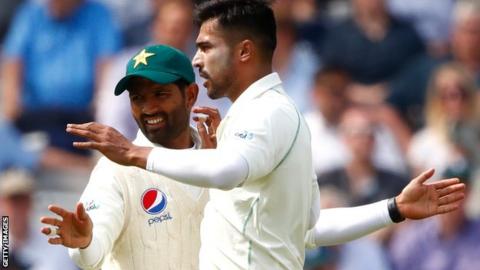 Pakistan players will stop wearing smart watches after they were visited by anti-corruption officials on the first day of the opening Test against England at Lord's, says bowler Hasan Ali.
International Cricket Council staff met the Pakistan team at the close of play, although there was no allegation of wrongdoing.
"I didn't know who was wearing them but yes, the ICC anti-corruption officer came to speak to us and they told us this is not allowed," said Hasan.
"Next time nobody will wear them."
Barring specific exceptions, players and officials are not permitted to have any communication devices during play.
That usually only extends to mobile phones in the dressing room, but some Pakistan players wore smart watches while fielding at Lord's.
As those watches are able to receive communication and connect to the internet, the ICC effectively treats them as a phone. If a player wants to wear one, the connectivity must be disabled.
Pakistan closed the day on 50-1 after bowling England out for 184.
Mohammad Abbas took 4-23 and Hasan took 4-51, while Alastair Cook made 70 for England.