England v Pakistan: Andy Flower says domestic structure hampers Test side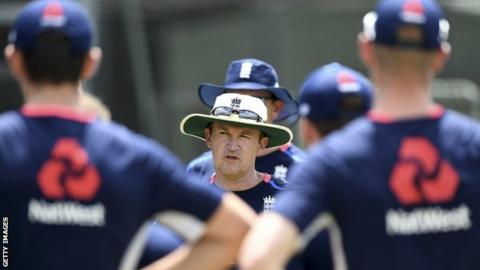 The current structure of domestic cricket hampers England's chances of winning Tests away from home, says acting director of cricket Andy Flower.
The majority of County Championship matches are played at the beginning and end of the season, often during the coldest and wettest weather.
England have won only one away Test series since the beginning of 2013.
"We are missing out on the best chance of replicating Test conditions," Flower told BBC Test Match Special.
England have not lost a home series since 2014, but are without a victory in their past 13 away Tests.
While home victories are often forged by England's skilful seam and swing bowlers, wickets have been harder to come by in foreign conditions that call for high pace or quality spin.
"Can our system produce cricketers that can do that? Absolutely it can," said former England coach Flower, who has temporarily replaced Andrew Strauss while his wife receives treatment for cancer.
"But, at the moment, I don't think it is geared up to produce those players."
The first five rounds of matches in this season's Championship were played between 13 April and 14 May, before the 50-over One-Day Cup began.
There are only four rounds of Championship matches in June and July, while the remaining matches take place between 19 August and 27 September. The T20 Blast occupies much of July and August.
Asked if a change in the schedule would give players better preparation for the Test arena, Flower said: "I don't think it is controversial to say that.
"There are too many medium-pacers who are dominating some first-class games. We need to replicate conditions as closely as we can to Test-match cricket, when fast bowlers and spinners really come into the game.
"We should, in how we structure our domestic competitions, as much as possible try to replicate those conditions."
The England and Wales Cricket Board has set up a panel to review the structure of the domestic game, with potential changes coming in to force in 2020.
However, any move to bring the Championship back to the height of summer would be complicated by the introduction of the new 100-ball competition, which is also slated to be played in the middle of the season.
Flower coached England from 2009 to 2014, winning the Ashes against Australia three times.
Towards the end of his reign, he split his duties with Ashley Giles, who took charge of England's limited-overs teams.
Flower, who played 63 Tests and 213 one-day internationals for Zimbabwe between 1992 and 2003, does not believe that arrangement worked, but acknowledges the strains on current England coach Trevor Bayliss.
Australian Bayliss will step down in 2019, following a summer when England host the World Cup and an Ashes series.
"You have to manage the coach's workload just like you do the players," said Flower. "I'm pretty sure that in 20 or 30 years time they will be split roles.
"It can work and it's definitely an area not only the ECB will be looking at but also every other nation."