England v Pakistan: Michael Vaughan questions Trevor Bayliss' tactics
Last updated on .From the section Cricket121
England's difficult second day in the first Test against Pakistan is a sign they "need coaching", according to former captain Michael Vaughan.
Pakistan reached 350-8 at Lord's, a lead of 166 over England, who were bowled out for 184 on the first day.
England did not win any of their seven Tests in Australia and New Zealand over the winter.
Vaughan said: "England don't lose home Tests in May. It's not doing a great deal for Trevor Bayliss as coach."
England have only lost three home Tests that have begun in May, the last of which was to New Zealand in 2015, before Bayliss took charge.
Under the Australian, England have not lost a home Test series, but their wretched winter was part of a 13-match winless streak away from home.
At Lord's their collapse on Thursday featured a string of poor shots, while their efforts to dismiss an obdurate Pakistan batting line-up have been hampered by five dropped catches.
"England don't have any kind of foundation with batting, bowling and fielding - it's been a mismatch," Vaughan, who led England to victory in the 2005 Ashes, told Test Match Special.
"Throughout this Test match, there are so many things that have not looked right."
A feature of England's day on Friday was a number of players fielding in unusual positions. The slip cordon changed regularly, while captain Joe Root and his predecessor Alastair Cook both fielded under the helmet at short leg.
"When a side is easy to watch and it's a smooth operation, it is not because they are having great days all the time, but you see people in the same positions," said Vaughan.
"When you see too much inter-changing with the field positions, particularly in key areas, it makes England look like a side that needs oiling."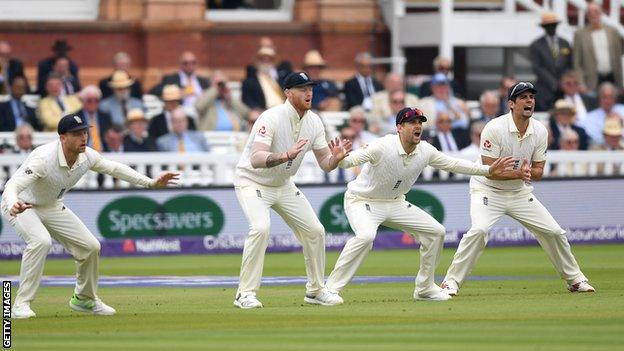 England wicketkeeper Jonny Bairstow, however, dismissed any suggestion that players moving from their regular positions was a problem.
"It's good to have people to be able to field in different positions," he said. "You can look into as much as you wish and make up whatever ideas you want about who fields where."
Bairstow, who invited journalists to join England's fielding practice, insisted that his team can get back into the Test, despite being so far in arrears.
"We're definitely still in it," he said. "If in our second innings we can gain parity with their first-innings score, we have the opportunity to bowl them out for 180. There's no reason why we can't.
"We've still got three days left. Pakistan have batted well, but days three and four are potentially the best time to bat on this wicket. By no means are we out of this game."
Vaughan, though, believes only the weather can save England from here.
"I don't think they can save this, unless the rain comes," he said. "You look at the history of Test match cricket and very rarely do you save it from here.
"Pakistan will bowl better than England have bowled. England created chances but didn't take them. We've seen one or two keep low, so it's not going to be easy for the England batsmen."
Pakistan batsman Azhar Ali, who began his press conference by shaking hands with the assembled media, agreed that his side are in the ascendancy.
"We have got in a good position now," he said. "But it's a long way to go and a Test win never comes easy. We know we still have to play good cricket."
Listen to the Test Match Special day two podcast from Lord's