Heather Knight column: England's summer, a possible women's IPL, and the ECB's new competition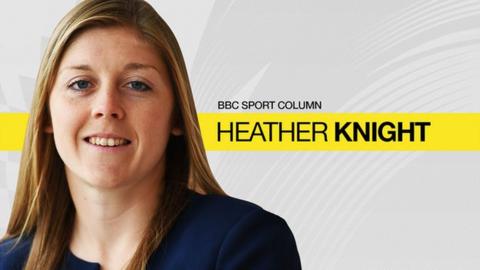 England v South Africa & New Zealand
Dates: 8 June - 13 July - Full summer schedule here
Coverage: Ball-by-ball Test Match Special commentary on BBC Radio 5 live sports extra, Radio 4 LW and BBC Sport website & app. Live text commentary and in-play highlights on BBC Sport website & app
Since we returned from India, we've had the ECB's announcement about the new competition which will run from 2020.
First and foremost, the idea that we'll have women's domestic cricket on free-to-air TV for the first time ever is huge, and so exciting.
We do need to broaden cricket's fan base as well. Sometimes when you're in the cricket bubble you forget that not everybody loves it so it's always important to try and grow the game. I'm sure it will be a brilliant spectacle and I hope it is a great success.
It does mean the end of the Kia Super League, and obviously Twenty20 international cricket is huge in the women's game, so we need to make sure that from 2020 the structure below the new competition is right. We've had discussions with the ECB and I know they're working hard on it.
Some of the best bits of last summer's World Cup were when we saw kids imitating us - there was one girl at Bristol who apparently copied me diving for my crease! - so I really love the idea of kids seeing us on free-to-air TV and giving it a go.
Learning in India
Our trip to India in March and April was really interesting, despite us not getting the results we would have wanted.
We took a young and inexperienced side in order to give opportunities to a few of the younger players coming through, alongside getting some much-needed T20 preparation with the ICC Women's World T20 coming up in November in the West Indies.
It was a mixed tour, with some brilliant individual performances along the way. Some of the T20 cricket we played to chase down some decent scores - including a record 198 against India - showed a glimpse of how good we can be in the shortest format.
Now we need to add more consistency to replicate that level of performance more regularly.
A Women's IPL?
India is a brilliant place to tour, it's a unique experience and the passion for cricket that the people have there is second to none.
The following and the profile women's cricket has in India has boomed since I last visited, mainly due to the team's success at last year's ICC Women's World Cup.
We had some OK crowds at some of our games out there, but I'd love to see the games promoted more and put in prime viewing slots. With the right support, I've no doubt the women's game will "blow up" even more out there.
Last month's IPL trial match is a good sign that more is being invested into the game in India and it was great to see Danni Wyatt and Dani Hazell involved from an English point of view. It will be interesting to see what happens next.
Keeping Wisden a secret
The news was revealed during the India trip that myself, Anya Shrubsole and Nat Sciver had each been named as one of Wisden's five Cricketers of the Year.
For me, it was a very proud moment and I was delighted to be named alongside Nat and Anya.
Considering there have only previously been two women on the list, to have three of the team make the five this year shows the impact that last summer's World Cup win had.
We actually found out over six months ago when we were all in Australia, that's a long time to keep the lips sealed!
Summer coming up
After a week off after India, it was straight back into training and the English summer.
There are ICC Women's Championship points up for grabs in the one-day internationals - all of which contribute towards qualification for the 2021 World Cup in New Zealand - and we've got two really good teams over here.
We start with an ODI series against South Africa before a T20 tri-series against them and New Zealand.
During that series each team will, on one occasion, play two games in a day. It means the fans will get double for their money so it's exciting, but it will be interesting to see how achy we are afterwards.
It's our first run-out on home soil since that infamous day at Lord's last year and we want to take that momentum and run with it. We'd love to see some big crowds at our games again this year and get people talking about us.
England women's international summer
ODI series v South Africa: Worcester (8 June), Hove (12 June), Canterbury (15 June)
T20 tri-series v SA & NZ: Taunton, Bristol & Chelmsford, 20 June - 1 July
ODI series v New Zealand: Headingley (7 July), Derby (10 June), Leicester (13 June)
Full summer schedule
Coverage: Ball-by-ball Test Match Special commentary on BBC Radio 5 live sports extra, Radio 4 LW and BBC Sport website & app. Live text commentary and in-play highlights on BBC Sport website & app