Usman Khawaja: Glamorgan batsman says Australia must earn respect back
By Dafydd Pritchard
BBC Sport Wales
Last updated on .From the section Cricket
Australia batsman Usman Khawaja says they must regain the respect of the country's public following the ball-tampering scandal.
Captain Steve Smith and vice-skipper David Warner were banned for a year and Cameron Bancroft for nine months after the incident in South Africa in March.
Khawaja, who has joined Glamorgan, believes Australia face "a lot of work" as they aim to restore their reputation under new head coach Justin Langer.
"It's been tough," he told BBC Sport.
"I've grown up with Davey and Smithy, playing with them, and Cameron's a great kid and I get along with him really well too.
"It's been tough seeing what they've been going through. You see it from the outside and people don't understand everything that's happened.
"But for me it's more about us owning it as a team, taking responsibility for what happened as a team in South Africa - not pointing the finger at three players.
"There's a lot of work ahead for us as a team. We have to earn a bit of respect back from the Australian public and everywhere else.
"It's our responsibility to cop it, and it's our responsibility to play some good cricket, do it in the right spirit and, fingers crossed, see those three guys who are out right now back playing cricket soon, and back in international colours soon too."
Khawaja was initially signed by Glamorgan for the T20 Blast but has arrived early as a replacement for compatriot Shaun Marsh.
Marsh was called up by Australia for their one-day series against England and missed the county's final four One-Day Cup games.
Khawaja played in the Test series against South Africa and scored 171 in the fifth Test of Australia's 4-0 Ashes victory over England but, despite also impressing in T20 cricket, he has not been included in their squad for the one-day matches against England.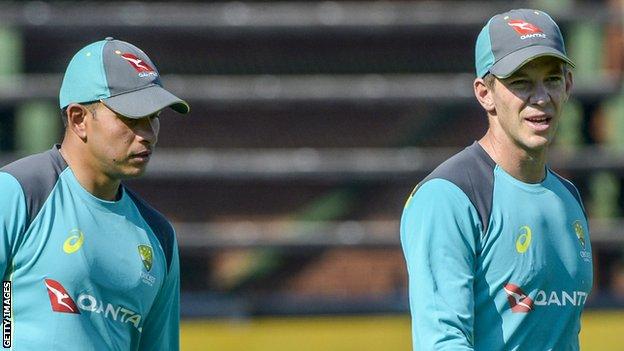 Australia's behaviour will be scrutinised this summer, having been criticised in the past for their aggressive approach on the pitch.
Langer and new captain Tim Paine insist they know the "difference between abuse and banter" but say they "won't be silent" in their upcoming series against England.
"He [Langer] doesn't want to come in and reinvent the wheel and change the culture," said Khawaja.
"He's obviously got his ways of doing things and they're not that dissimilar. He just goes about trying to achieve the same goals but in a slightly different way.
"I've had a few chats with JL [Langer], he's been really good to talk to. You can see why the WA [Western Australia] guys enjoy working with him - he's very easy to talk to.
"I don't mind change. Some people don't like it but it's good to get a different perspective."