Alex Wharf enjoys umpiring his first One-Day International in Cardiff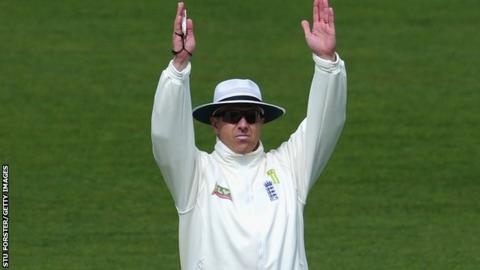 Former Glamorgan and England all-rounder Alex Wharf says it was "special" to umpire his first One-Day International in Cardiff.
The 43-year-old, who became a first-class umpire in 2014, officiated in England's 38-run win over Australia.
"It was a special day for me and my family, one I'll cherish and remember for a long time," he said.
He is the first Glamorgan cricketer to both play and umpire in one-day internationals.
Wharf played 13 ODIs for England in 2004-2005, having joined the Welsh county from Nottinghamshire in 2000.
"My boys were here, my wife was here and one of my brothers as well as some close friends, so I've really enjoyed today, I'm ecstatic and over the moon," Wharf told BBC Sport Wales.
"It was a great experience, I loved it and hopefully there'll be many more. It was always something I wanted to aim for, and why wouldn't you want to be involved at the top, at the very elite of the sport?
"It's something I've dreamed about doing and tried to put everything in place but it's all about performances really."
Difficult decisions
Wharf and fellow umpire Marais Erasmus managed to play a full game in the second ODI at Sophia Gardens despite three interruptions by rain, doing their best to stay on when the drizzle was light.
"We tried to maximise play as you do as an umpire, we feel we got it right," said Wharf after a drastic reduction of the innings break to just 20 minutes allowed them to fit in a full game.
He also survived his first trial by television, with England calling for an umpire decision review from the television official when fast bowler Mark Wood did not agree with a refusal of an lbw appeal. But Wharf was shown to be right, as the ball pitched outside leg-stump.
"That was something new, I didn't know emotionally how I would react but it seemed to go quite well and I've got that out of the way," he said.
"I've got a few more (international dates) pencilled in for the rest of the summer, I'm going to go in with the same sort of attitude and just enjoy it."