Steven Patterson replaces Gary Ballance as Yorkshire captain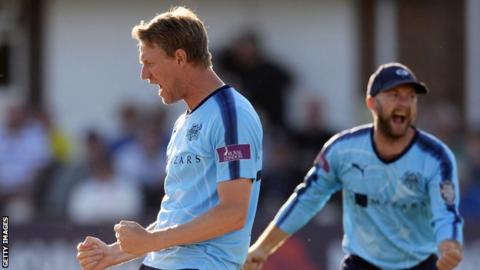 Steven Patterson will replace Gary Ballance as Yorkshire captain for the remainder of the 2018 campaign - and has also agreed a new two-year deal.
The 34-year-old seamer took on the role after Ballance announced he would be taking a break from cricket because of "personal reasons" on 18 May.
Patterson, who has played 134 first-class games for the county, led them to the One-Day Cup last four on Thursday.
He said: "Knowing I'll finish my career at the club is something I'm proud of."
Ballance, who played a big part in Yorkshire's win over Essex with 91, said it was a "big decision" to step aside but that "it was best to let that go".
"I don't think it was really affecting my batting too much," he said. "It just felt like there was quite a lot of burden, in terms of pressure and expectation, on me and it has got a lot tougher over the last few weeks.
"Hopefully for me personally I can go on and play some nice cricket and not worry too much about the captaincy."