Inter-Provincial Twenty20: Lightning and Knights secure wins at Pembroke
Last updated on .From the section Cricket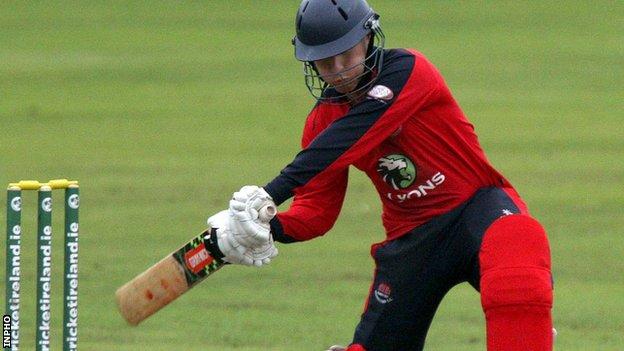 Leinster Lightning and Northern Knights earned victories in Saturday's Inter-Provincial Twenty20 games at Pembroke.
Lightning beat North-West Warriors by 41 runs and they can finish the competition undefeated when they play Munster Reds on Sunday.
An undefeated partnership of 122 between John Anderson and George Dockrell was key to their win.
The Knights defeated Munster by 39 runs with Jacob Mulder and Shane Getkate both taking three Reds wicket.
Adam Dennison hit 35 runs and Peter Eakin scored 25 as the Knights posted a total of 165.
Munster were bowled out for 126 after 18.2 overs in reply as the Knights secured a second Inter-Provincial Twenty20 win.
It was a fifth straight Inter-Provincial Twenty20 success for Leinster, who made 182-3 against a Warriors side which finished with only nine fit batsmen.
Hanley Energy Inter-Provincial Twenty20s
Munster Reds v Northern Knights
Northern Knights 165 A Dennison 35, P Eakin 25, A Shields 25; Y Ali 2-12
Munster Reds 126(18.2 overs) O Gunning 26, S Doheny 24, D Delaney 24, J Mulder 3-18, S Getkate 3-28
Northern Knights won by 39 runs
Leinster Lightning v North-West Warriors
Leinster Lightning 182-3 J Anderson 76 no, G Dockrell 40 no, G Kennedy 2-20
North-West Warriors 141-8 (18.2 overs) D Rankin 36, A Gillespie 34
Leinster Lightning won by 41 runs