Three Day Inter-Provincial Series: North West Warriors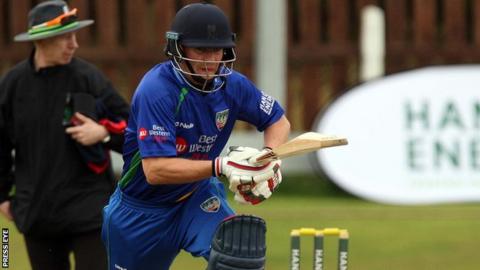 North-West Warriors secured a comfortable 140 run win over Northern Knights on the final day of their Inter-Provincial match at Bready.
Matthew McCord and James Dow shared a 62-run ninth wicket partnership but it was not enough for the Knights who were chasing an unlikely 342.
They began the Thursday's play on 28-2.
Warriors captain William Porterfield had put his side in a commanding position on day two, scoring 152 on 174 balls.
The Knights appeared to be headed towards a much heavier defeat before some impressive lower order batting kept the game alive.
However when James McCollum departed for a battling 48, leaving the visitors on 139-8, defeat looked inevitable.
It is the Warriors' second convincing win over the Knights this month, and they now sit level with Leinster Lightning in the Three-Day Inter-Provincial series with two wins.
Twenty20 Cup and Trophy finals rearranged
The finals of the Lagan Valley Steels T20 Trophy and T20 Cup have been rearranged for Sunday, 29 July at the Lawn, Waringstown.
The Trophy final between Downpatrick and Hollywood will begin at 11:00 BST and the Cup contest between North Down and Waringstown is due to start is at 15:30 BST.
North-West Warriors
First innings: 226 (66 overs) N O'Brien 45, W Porterfield 41; K McCollum 5-32, M Adair 3-33
Second innings: 303-7 decl. (64 overs) W Porterfield 152, N O'Brien 65, A McBrine 27 no.; H Tector 4-70
Northern Knights
First innings: 188 (62.2 overs) M Ellison 65, M Adair 32, D Scanlon 4-61, G Kennedy 3-36, C Young 3-47
Second innings: 201 J McCollum 48
North-West Warriors won by 140 runs