Glamorgan coach Robert Croft confident of turning around struggling county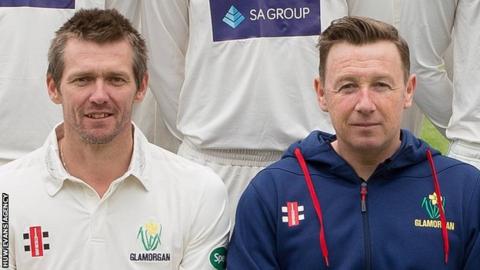 Glamorgan coach Robert Croft says he is confident in his ability to improve their fortunes after an innings defeat inside five sessions against Sussex.
Glamorgan are bottom of Championship Division Two and have won once in the One-Day Cup, leaving the T20 Blast as their only hope of honours.
"I'm confident in my skills and the skills of the support staff around me," said Croft.
Captain Michael Hogan called the performance at Hove "embarrassing".
Glamorgan, who fielded six players aged 22 or under, were bowled out for 85 and 88, in innings lasting only two hours apiece as England prospect Jofra Archer took four wickets in each.
"To be bowled out twice in 60 overs on a decent wicket was extremely disappointing and well below the expectations we want from our team... it's embarrassing really," said Hogan.
"To be brutally honest, we were completely outclassed, though they have got a very good bowling attack and they gave no easy runs away, which we did when we bowled."
'Dark times' and long-term plans
Croft, a former Glamorgan captain and England all-rounder, is in his third season as head coach.
He is still backing the longer-term plans to concentrate heavily on developing talent from within the club in four-day cricket, despite five defeats since the opening win over Gloucestershire in April.
"It is early days for these players - we saw Kent lose in two days so it is happening [elsewhere]," Croft told BBC Sport Wales.
"We are fully committed to making this work. We will have some dark times and we're currently in one of them, but we will work hard to get out of it.
Croft was asked whether there was enough batting experience to help the younger players develop, with only Usman Khawaja and Chris Cooke having more than three seasons in the first-class game.
He replied: "That's a question that people will always throw around. It's a strategy we've come up with as a whole cricket department and it's one we're giving a go at the moment.
"This was a tough game and this was the best attack we've come up against all season.
"These boys are having it tough and learning the hard way, it's up to us to try and manage their confidence.
"Back in 1997 we bowled Sussex out for 54 and 67 and six years later they're winning the County Championship, so when you take on a strategy like this, you expect some turbulence and we're going through it right now.
"What we've got to do is put as much faith into these players as we possibly can, giving them opportunity and the support they need."
Glamorgan have not been helped by injuries to former South Africa fast bowler Marchant de Lange and Welsh all-rounder David Lloyd, as well as seeing Australia batsman Shaun Marsh out for the season with a shoulder injury.
But Hogan suggested there could be changes for the final block of Championship fixtures, with six matches to come, starting against Durham in Cardiff on 19 August.
"We've given some young players an opportunity to show their wares on the first-class stage," he said.
"I'm not sure whether they respect the position they're in at times, but we have got players we may be able to use further on down the track.
"There's been some good performances in the second team, so we can look there and see what we can find."
Glamorgan return to T20 Blast action against Gloucestershire at Cheltenham on Friday, with international batsmen Colin Ingram and Joe Burns set to feature, probably alongside all-rounders Graham Wagg and Craig Meschede and batsman Aneurin Donald.