UK heatwave causes Lord's to relax strict dress code for T20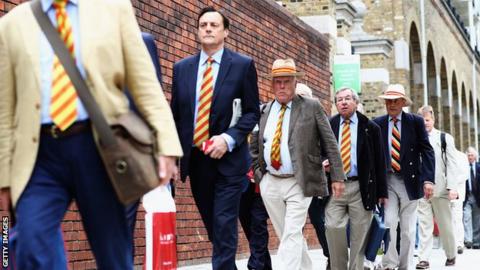 The dress code at Lord's was temporarily relaxed because of the heatwave which has hit the UK.
Temperatures reached 34 degrees in St John's Wood on Thursday, prompting the one-off change in rules for the T20 Blast match between Hampshire and Middlesex.
The dress code states male members of Marylebone Cricket Club (MCC) are normally expected to wear jackets when arriving at the ground and while in the pavilion area.
But spectators were told this would not be enforced because of the "abnormally warm" weather.
The news of the unprecedented move was revealed on Twitter prompting numerous humorous replies to the announcement - including one from the International Cricket Council (ICC):
Many people thought the announcement meant the impending end of the world...
While others thought they would take advantage of the rare rule change by putting in a simple request...
Earlier this week, India cut short a warm-up match against Essex after concerns over the stifling weather.
India are due to begin their Test series against England on 1 August at Edgbaston.
Meanwhile, the decision from Lord's prompted a race-goer to ask whether Ascot would be following suit, with the racecourse saying they may well also relax their dress code for Saturday's King George VI and Queen Elizabeth Stakes.
But not everyone is bending the rules. Chester Racecourse have confirmed they will not be relaxing their dress code for Saturday's meeting.