ICC chief David Richardson says ball-tampering and sledging 'threaten cricket's DNA'
Last updated on .From the section Cricket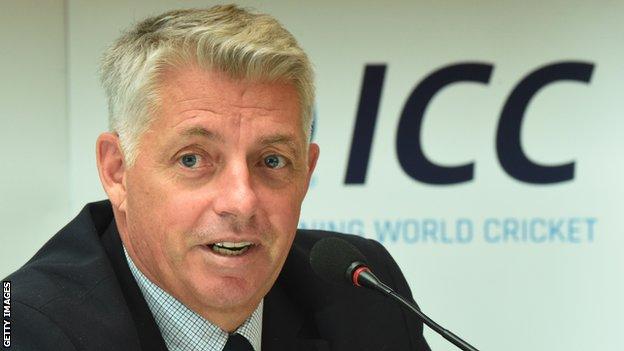 Ball-tampering and sledging threaten cricket's integrity and recent poor behaviour by players "has to stop", says International Cricket Council (ICC) chief executive David Richardson.
It follows the Australia ball-tampering scandal against South Africa in March.
"Cricket's DNA is based on integrity," said Richardson.
"But we have seen too much behaviour of late that puts that in jeopardy and this has to stop.
"Sledging that amounts to no more than personal abuse, fielders giving send-offs to batsmen who have been dismissed, unnecessary physical contact, players threatening not to play in protest against an umpire's decision and ball-tampering."
Delivering the 2018 MCC Spirit of Cricket Cowdrey Lecture at Lord's on Monday, former South Africa wicketkeeper Richardson said: "This isn't the version of our game that we want to project to the world."
Richardson, who will step down after the 2019 World Cup in England, said the global public reaction to incidents in the Australia-South Africa Test series was "an eye-opener".
Ex-captain Steve Smith and former vice-captain David Warner were banned for a year by Cricket Australia for their part in a plan to use sandpaper to damage the ball during the third Test, with Cameron Bancroft suspended for nine months.
During the same series, South Africa fast bowler Kagiso Rabada was initially given a two-Test ban for reaching eight demerit points after deliberately making contact with Smith but had his suspension overturned on appeal.
"The message was loud and clear, cheating is cheating and it's not what we signed up for," said Richardson.
Smith was suspended for one Test by the ICC, the maximum available sanction at the time, but players found guilty of ball-tampering can now be banned for up to six Test matches or 12 one-day internationals.
India captain Virat Kohli was reminded of his responsibilities in an "informal chat" with match referee Jeff Crowe during the first Test defeat by England, having sworn and mimicked counterpart Joe Root's 'mic drop' celebration after running him out.
Richardson asked players and coaches to improve their behaviour, adding too many coaches were "too quick to side with their players" and "blame the umpires for being biased against their team".
"Winning must obviously be the aim of any game, but not at all costs, not when it means compromising the integrity of the game," he said.
'Public don't see different types of ball-tampering'
Richardson said he believed players who asked for further guidance on the ball-tampering laws were being "disingenuous".
"The laws are simple and straightforward - do not change the condition of the ball using an artificial substance," he said.
"If you are wearing sunscreen, sucking a mint or chewing gum with the intent of using the cream or the sugary saliva on the ball you are ball-tampering.
"You may not always get caught - and we are not going to stop players from chewing gum or wearing sunscreen - but if you are, then don't complain."
Richardson also warned against the argument that practices such as sucking mints were commonplace and not as serious.
He said: "The public have spoken - you can't distinguish between ball-tampering that is serious using sandpaper and ball-tampering that is not. It has to be one category."
'We must remove barriers to entry'
Richardson also called for greater diversity in cricket, both in attracting the next generation of fans and more women to the sport.
He said the sport had "ignored the potential of women in cricket" for too long "but that is changing significantly and will continue to do so".
"We must remove any barriers to entry based on gender," he added.
The 58-year-old also called on venues such as Lord's to do more to help children "watch their heroes".
"Limited seating capacity, a ready and sizeable adult or corporate market, a need to maximise revenues - in the main, from tickets and alcohol sales - all lead to very few opportunities for young boys or girls to attend internationals," he said.