Glamorgan Cricket: Craig Meschede relishes German call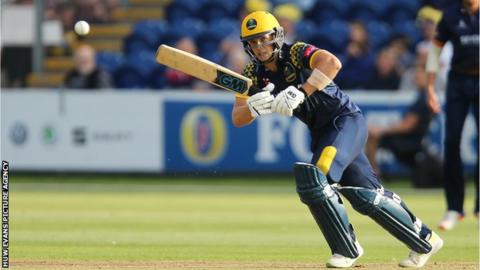 Glamorgan all-rounder Craig Meschede says he is looking forward to a "completely different" cricket environment playing for Germany in World T20 qualifiers.
"I thought it would be nice to help them out," he told BBC Sport Wales.
"I have no idea (of the standard), so it'll be jumping into a completely different environment but I think it'll be fun."
Meschede is in his fourth season with Glamorgan after four years at Somerset.
The 26 year-old is included in the German squad for a six-team preliminary qualifier in the Netherlands between August 29 and September 2.
They face Cyprus, Denmark, France, Portugal and Austria, with the top two going through to the next round of qualifying for the tournament in Australia in 2020.
"I wasn't really aware that Germany had a reasonable cricket side," Meschede admitted.
"Through my father's side I've got a German passport, but I did make sure it wasn't going to affect my England qualifications (through residence)."
The German side is captained by Indian-born Rishi Pillai, who works in the country as an engineer, while wicket-keeper Daniel Weston is a former Australia under-19 player who is now an investment specialist there.
That justifies Meschede's hope he will be able to communicate with his new team mates, many of whom are from Asian backgrounds.
"I understand a little bit (of German) but I don't speak anything- it'll be interesting to see if any of the Germany side speak German, but I'm relishing the opportunity and it should be fun!
"For my grandfather's 80th birthday we visited the town of Meschede, which is near Dusseldorf, but I haven't really been around Germany much."
Germany also tried to recruit Middlesex spinner Ollie Rayner and Leicestershire seamer Dieter Klein for the tournament, but they are required for Championship matches at the time.