Ireland women's opener Shillington aims to go out on a high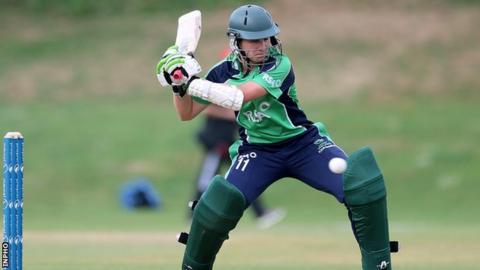 The ICC Women's World Twenty20 in November will mark the end of an era for Irish female cricket, as stalwarts Clare Shillington and Ciara Metcalfe are set to retire from the international scene.
The talismanic Shillington's importance to the current Irish T20 squad is underscored by standout performances in last month's WT20 Qualifier tournament, which saw her awarded 'player of the tournament'. Shillington was Ireland's leading run-scorer with 126 in five matches.
Looking to replicate that high level of performance when Ireland take on top sides Australia and New Zealand, Shillington revealed that although she doesn't get "hugely nervous", she is feeling the pressure of this tournament more than most.
"I want to perform and end on a high," said the 37-year-old.
"We have to get as fit as we can, be as prepared as much we can and try and hit the ground running over there."
Ireland, who are ranked 10th in the ICC Women's rankings and are the lowest ranked team in the WT20, will look to emulate the success of the Irish women's hockey team in the West Indies.
The tournament will be a key opportunity for Ireland to take advantage of a squad containing an exciting combination of youth and experience and regain ground on sides like Pakistan.
"It's probably one of the strongest squads I've been on," she added.
Record breaker
A champion of Irish international cricket since 1997 and with 143 senior caps, including three World Cups and two WT20 Championships, Shillington boasts a wealth of experience and is both a leader and role model within the Irish set-up.
Although Shillington is not a well-known Northern Irish sporting star, her cricketing ability and dedication to Irish female cricket should not be overlooked.
Highlights of the Ulster-born player's career include being the first woman to reach 100 caps for Ireland, the first to score a century in a T20 match and scoring a century against the Netherlands in the 2012 ECB County Championships Division Three play-off, helping Ireland secure promotion.
Shillington's talent is exemplified by her versatility. Prior to retiring from the 50-over format in 2017, she was a cornerstone of both One-Day International and T20 squads. In the 50-over game she usually bats in the middle order while she opens in the T20 format.
Behind the helmet
Shillington has lived and breathed cricket since her childhood and has never lost her love for the game.
She is rarely fazed by the psychological demands of the game and has no 'unusual' pre-match rituals bar a precise bag pack!
Psychological preparation is key to overcoming such demands.
"It's something I really enjoy," said Shillington.
"When you walk out and face the first ball you know you've done everything you can to prepare."
Born in Belfast, she knows more than most about the development of the game in Ireland and the challenges faced by women in sport.
Shillington's determination saw her overcome adversities including the non-existence of club cricket for girls in Northern Ireland and spending summer holidays living "the life of Riley down in Dublin" to compensate.
Massive change
As someone who plays international cricket for no incentive other than love for the sport, Shillington's journey is inspirational.
Shillington made her senior debut in 1997 in an era when players had to cover their travel expenses to tournaments.
Today things have "massively changed", she says.
Increased funding has been a major driving force of such change.
The next step in the evolution of the female game is the introduction of professional contracts, something which Shillington regards as essential if Ireland wish to challenge the 'elite' of international cricket including England and Australia.
While there are now "plenty of opportunities" for young girls wishing to participate at the highest level, barriers undoubtedly remain, especially in Northern Ireland where the sport is played by a minority of men and women.
Balancing work commitments with the demands of international cricket is something which Shillington personally has found difficult.
Life after cricket
The future of Irish cricket is in safe hands, according to Shillington, with so many young players now competing for places in the Ireland squad and seeing cricket as a career option.
Shillington also hopes more young players will follow the likes of Isobel Joyce and Kim Garth, who are on contracts in Australia's Big Bash League.
"It's massive for us and huge for them," she said.
Shillington says she doesn't want to venture too far from the sport after her retirement and would like to nurture the next generation of female stars.
Ireland's opening game of the Women's WT20 will be on 11 November against Australia in Guyana.