International Cricket Council appeals for help in catching suspected 'match fixer'
Last updated on .From the section Cricket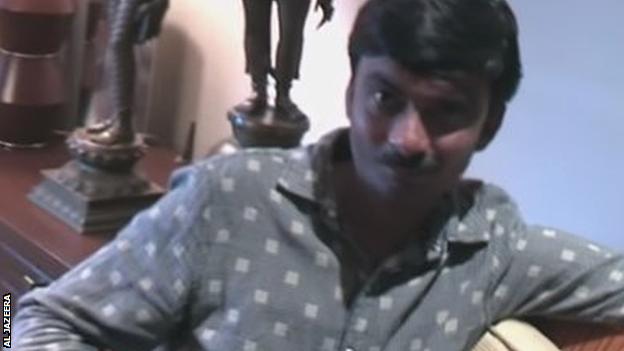 The International Cricket Council (ICC) has appealed to the public for help in identifying the alleged match fixer who features in an undercover documentary.
Al Jazeera broadcast a first programme on the subject in May, with a second to air soon.
The ICC said it had "identified every other person" in the original documentary, which included allegations against England and Australia players.
Those claims were denied by both countries' cricket governing bodies.
The ICC said its investigation into the claims was making "good progress" despite "the absence of any co-operation" from Al Jazeera.
The broadcaster has said it will co-operate fully with "the relevant authorities" but also must "take into account ongoing legal considerations, including potential criminal investigations".
Al Jazeera has claimed the alleged match fixer is known as Aneel Munawar.
Alex Marshall, general manager of the ICC's Anti-Corruption Unit (ACU) said: "We are aware that there is a second documentary in the offing, this time based on historical recordings between a fixer, suspected to be Munawar, and bookies in India.
"As with the first programme, we will investigate any claims made in a full and thorough manner and we take any allegations of corruption, historical or contemporary, extremely seriously.
"However, the true identity of Aneel Munawar remains a mystery. He plays a significant role in the programme, yet enquiries with law enforcement and immigration sources have not identified or located him.
"As such we are appealing to the public or anyone from within the cricket family to contact us with any information that will lead us to identify and locate him. Police investigations often use such an appeal to locate people of interest and we are exercising the same approach."
Meanwhile, Australian cricket chiefs say they have already conducted a review into the allegations contained in the latest documentary.
Cricket Australia said such claims "should be treated very seriously, and investigated".
"Our team have not identified any issues of corruption relating to current or former Australian players," it added, stressing that it would continue to liaise with the ACU, while urging Al Jazeera to share all of its information with the ICC.