Alastair Cook: There may never be another like him - Jonathan Agnew

By Jonathan Agnew
BBC cricket correspondent
Last updated on .From the section Cricket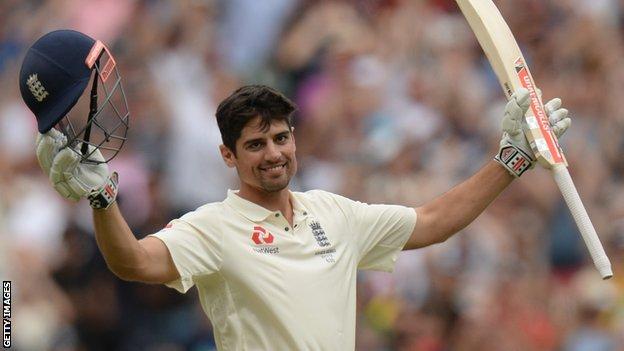 Players like Alastair Cook do not come around very often.
To play for so long and achieve so much says everything about his fitness, concentration, discipline and skill.
He has shown how far determination, hard work, guts and no little talent can take you.
When Cook retires from international cricket after the fifth Test against India at The Oval, he will leave with the most of everything for England - caps, runs, hundreds, catches and wins. His contribution to English cricket has been immense.
Having said that, it does feel like the right time for the opener to call time on his career. He has struggled for form, averaging only 18 with the bat this year. It has felt like this moment has been approaching.
I saw Cook on Thursday evening, the first night of the fourth Test in Southampton. We had dinner and he told me of his plans.
This is not something that has come about quickly. He has thought very carefully about it and he is completely at ease with what he has decided.
Opening the batting in Test cricket, facing up to fast bowlers looking to do their worst with a new, hard ball is incredibly tough. You have to be brave, single-minded and prepared to work very, very hard.
Over his long career, Cook has set himself high standards, standards that he was no longer living up to. It would take a massive effort to get back to the level he wants to be at.
Instead, he feels like he is spent. When you have given as much as he has, over such a period of time, it is hardly surprising that he has run out of steam.
There was a time when we felt like Cook might go on and on, maybe even threatening Sachin Tendulkar's record for most runs in Test history.
Remember, he is leaving the international game aged only 33. He will continue playing for Essex, but we thought he might still be in the England team at the age of 36, 37 and beyond.
After he gave up the captaincy at the beginning of 2017, he indicated that the 2019 Ashes were in his sights. Then, over the past winter, he started to talk about his career being on a game-by-game basis.
The old player in me can certainly sympathise with how your targets change because you simply do not know what is around the corner.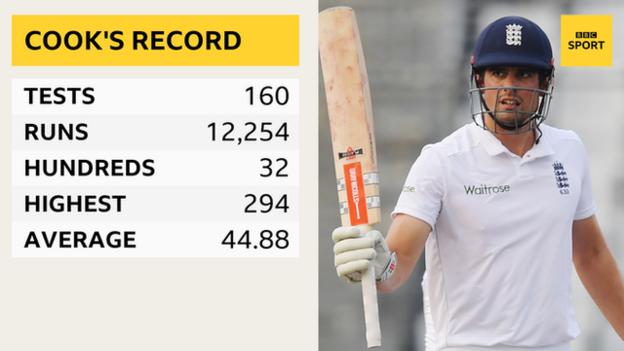 When talking of Cook the captain, it is hard not think of the tough times he went through - the 5-0 whitewash in Australia, all the Kevin Pietersen fallout that followed and the summer of 2014 when he came under immense pressure to stand down.
As people became entrenched in their views on whether Pietersen should have been discarded or not, Cook became a target of online abuse from some quarters. In a lot of cases, what was said about him was pretty outrageous.
In that sense, Cook was the first England captain that had to put up with life in the digital, social media age. It was probably a good thing for Cook that he has never signed himself up to Twitter.
There have, though, been many more highs than lows. Cook led England to two Ashes wins and a historic series win in India.
The hundreds he made in that series in India stand out, but my personal favourite memory is his epic 235 not out to save the first Ashes Test in Brisbane in 2010-11.
If England had lost that match, I doubt they would have gone on to secure that incredible series win. Instead, Cook went on to score 766 runs across the five Tests, making the biggest contribution to what will probably be a high point for everyone connected to English cricket for a long time to come.
Throughout it all, the ups and downs, Cook's wife Alice has been a source of tremendous support.
He is a family man, with his third child due very soon. He has often escaped the game to his father-in-law's farm, where he is another one of the lads when it comes to looking after the sheep. That is quite a contrast to having Mitchell Johnson fizz the ball around your ears.
Cook has a sharp sense of humour and is never shy of pulling my leg on how the game has changed from my day. He is the choirboy who turned into a fiercely competitive sportsman, one who will end his career by playing a remarkable 159 consecutive Test matches.
That he has managed such longevity, avoiding any sort of injury, is owed to his immense fitness. On tour, I have been in the embarrassing situation of being on the next treadmill to Cook. While I have plodded along, he has been like the Road Runner. By the time he has finished, there is steam coming off the machine.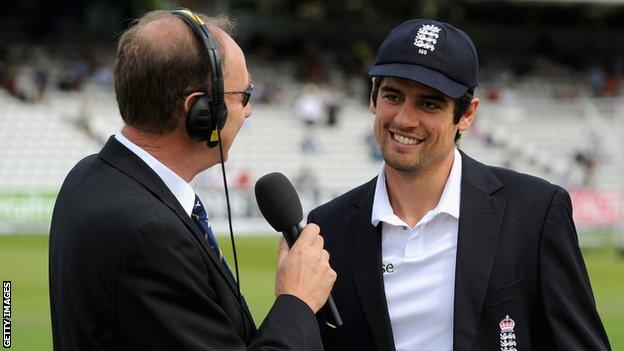 When Cook made his Test debut in 2006, the first edition of the Indian Premier League was still two years away. In the time since, the game has changed immeasurably - players not only want to succeed in Test cricket, but also make themselves appealing to T20 franchises.
In that context, it feels like Cook's retirement could be the end of an era not just for England, but also for the game itself.
Will there be another batsman of Cook's type? A red-ball specialist, playing all those Tests and scoring that many runs? I hope so, because without the likes of Alastair Cook standing up to opening bowlers in trying conditions, Test cricket will be a poorer (and much shorter) game.
And so to the The Oval, where Cook deservedly gets the chance to say goodbye and where the rest of us get to give him the send-off that his achievements warrant. His family will be watching as he takes the field in a Test for England for the 161st and final time.
Cook is the finest batsman of his type that I have seen. I hope he bows out with one last big score.
Jonathan Agnew was speaking to BBC Sport's Stephan Shemilt.