Alastair Cook on his career, Ashes highs & lows, Kevin Pietersen & Graham Gooch
Last updated on .From the section Cricket
Alastair Cook will retire from international cricket following England's fifth and final Test against India at The Oval.
The 33-year-old will end his career as England's most capped player, their leading runscorer, and with his nation's highest number of centuries and catches to his name.
His 12-year Test career started with a hundred on debut in 2006 and has since taken in the highs of stellar performances in Australia and India, and the lows of being whitewashed down under and the Kevin Pietersen fall-out that followed.
In a wide-ranging interview with BBC cricket correspondent Jonathan Agnew, former captain Cook discussed his decision to retire, his regrets over sacking his mentor Graham Gooch as England batting coach and why he felt the door should not have been completely closed on Pietersen.
Listen to the full interview

here
On retiring: 'Even if I had scored runs, I'm not sure I'd have carried on'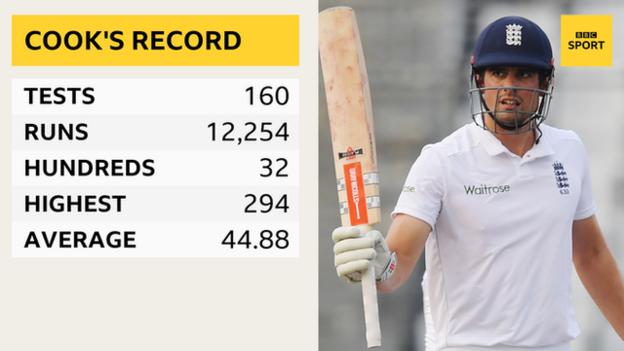 Although still relatively young at the age of 33, Cook will leave international cricket with 161 Test caps - only six men have played more Tests in the history of the game.
He bows out at the end of what has been the leanest year of his career - he averages just 18 with the bat in 2018 and has passed 50 only once since a double-century in the Boxing Day Test against Australia in Melbourne.
I feel quite calm and as if a weight has been lifted off my shoulders. It's been nagging at me for the past six months or so and then there were a couple of moments where the decision made itself. Even if I had scored more runs in this series against India, I'm not sure I would have carried on playing.
There's just something there that made retiring feel right. Like the captaincy, it is a big thing to give away. My heart is saying 'go on, play a bit longer', but my head is so clearly saying that I'm making the right decision.
Things do accentuate when you don't score as many runs as you would like, but it just feels right at this moment in time.
Naturally, I'm sad that it will be my last game, because it's been such an amazing journey over the past 12 years - not just for me, but for some of the people closest to me. My wife Alice's dad said he'd been on about 10 trips abroad to watch me play and my dad would never have gone to somewhere like India if it wasn't for me playing there. He went all around the country on the train. Stuff like that you really appreciate.
It's not just me playing cricket, everyone that has been associated with me is the reason why I have been able to do it. Yes, I sacrificed a lot, but people sacrificed a lot to allow me to go and play.
The highs: 'It taught me to never give up'
An under-pressure Cook made a century in the third Test against Pakistan in 2010, an innings he acknowledges saved his place in the England side.
In the winter that followed, Cook made 766 runs as England won an Ashes series in Australia for the first time in 24 years.
Named captain in 2012, Cook's first tour as full-time skipper was to India. There, Cook piled on another 562 runs, leading to their first Test series win there in almost three decades.
From a purely selfish, batting point of view, I couldn't bat any better than the 2010-11 Ashes and then in India in 2012. That was as good as I could play. To score a lot of runs and be man of the series in those two big away wins gives a real satisfaction. The pure emotion of winning the Ashes as captain in 2015, after what had happened before, was incredible.
Having a beer in the dressing room in Sydney in 2011 is a treasured memory. I'd scored some runs and we had done what we had set out to achieve. We talked and everyone had their favourite moment. I said to everyone that if they want to take anything from it, it was to never give up. Six months beforehand I had been one innings from getting dropped and there I was after getting more than 700 runs in a series.
The one thing I know I will miss is the dressing room experience. Experiencing so many things with a group of people has been absolutely amazing.
On captaincy: 'I got better when I opened my ears & relaxed'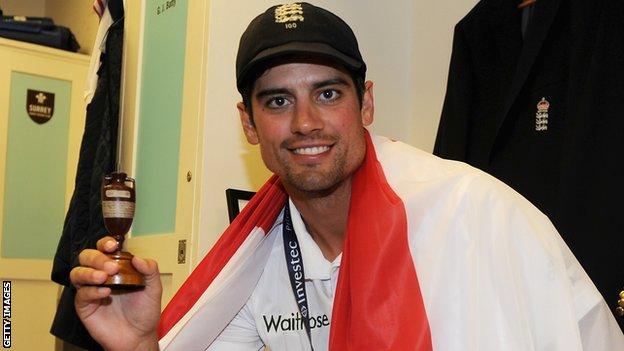 Cook presided over a record 59 Tests as England captain. As well as the win in India, he took England to two home Ashes series victories and a win in South Africa.
However, his record includes a 5-0 whitewash in Australia in 2013-14. He was often criticised for a style that was seen as formulaic or negative.
I suppose you could say I was always having to defend my style of captaincy. I did get a lot of criticism - some of it justified, other times as part of a tactic. I have no doubt when Shane Warne criticised me, that was a tactic because he was such good friends with Australia skipper Michael Clarke.
I grew into the captaincy. The first two years were done very much in my way and that was because that was how I had gone about my batting. I was very stubborn in believing I knew what was right for my game, so that is what I did with the captaincy. I didn't listen to anyone.
Experience taught me it is such a big job and there are so many things to learn, so I opened my ears and relaxed into it. I definitely got better and so, looking back, I wonder why I didn't listen to more people. Just because you're made England captain, it doesn't mean that you suddenly know everything about captaincy.
It is the most amazing job to do because every day you get tested. I absolutely loved it. There were some real tough moments, but I look back with fondness on a job where you get so much out of it.
On KP: 'I said we should have given him time off'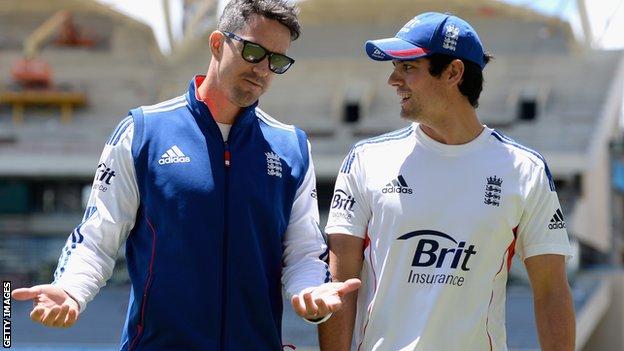 After the Ashes whitewash of 2013-14, England discarded batsman Kevin Pietersen. In the aftermath, a struggling Cook came in for heavy criticism, especially after England lost a home series to Sri Lanka and went 1-0 down to India.
Though England recovered to beat India, Cook would later be sacked as one-day captain before their poor World Cup campaign in 2015.
In the aftermath of that, there was a renewed campaign for Pietersen to reinstated by England, one that was only extinguished when Andrew Strauss took over as director of cricket.
It was the toughest time of my career and there's no doubt that it affected my batting. The day when Straussy came out and said Kevin wasn't going to play for us anymore, that was a massive weight off my shoulders.
I was involved in the original decision, but the England captain doesn't have the final say on hiring and firing. I agreed with it, but I said 'why don't we give him some time off, we can go away and maybe KP can come back later on'.
Paul Downton, Strauss' predecessor, wanted clarity and a clean break, because people would always be asking when is Pietersen coming back. You had to back his decision because that's what his job was.
The fallout was pretty nasty and I don't think the ECB handled it well or appreciated how social media worked back then. I bore a lot of the brunt of it, but I suppose that's what being captain is.
I would refute anyone saying that I was the one that chucked Pietersen down the stairs, but I was involved in the decision and I believed it was right at that time. What could have happened a year later, I don't know.
Looking back, I can safely say all the decisions I made were done for the best of the England cricket team at that time. On that one, there were a lot of other people, way above my head, also involved in it. I felt like I was being left alone as the captain.
I haven't spoken to Pietersen since that day, but I think time is a great healer. We spent a lot of time together and created some amazing memories. As two blokes, if you take cricket out of it, we have never fallen out. Since then, the internet has fallen out for us. He will have a different opinion, I'm sure.
On Gooch sacking: 'That was a major regret'
Cook's hero was former Essex and England batsman Graham Gooch, who mentored the left-hander as he followed a similar career path.
Following the Ashes whitewash, England not only parted company with Pietersen and coach Andy Flower but also Gooch, who was their batting coach. Later, Cook would also move away from having Gooch as his personal batting guru.
I used to watch Graham play and once queued for his autograph. There was my hero - Goochie, Essex and England. If you fast-forward 12 years, he was there at eight in the morning, throwing at me for an hour. After what he achieved in the game, to then be prepared to put the hours into me and be there for me through the good and bad times, just trying to make me a better player, went above and beyond.
We were doing extra sessions all the time. I will always be in debt for that because without that extra bit I would never have become the player I did.
Telling him that he was no longer going to be the batting coach wasn't great from me, even if I believed it was the right decision. Andy Flower had just left and, because he and Graham were so close, if we still had the same sort of message coming through, I didn't think we'd move forward.
I thought we needed a fresh start. Even though I thought it was right, I don't think I should have been the one to tell Goochie that we didn't want him as coach - that will be a major regret.
It was over a phone call because we kept trying to meet up but couldn't. It was sad and I should never have allowed it to happen that way. Now, I probably wouldn't have done, but it's the sort of thing that happens when you're growing up as a captain. It's possibly not the captain's job, but I can only blame myself for doing it.
On the personal batting side, after 10 years of constantly doing something, it was time for a change. He actually threw the idea into my brain. He asked how I thought we were going and if it was time for a change of voice. On that side, I have no regrets.
Our relationship is fine now and he's still an absolute legend. We have seen each other less over the past two or three years, but I'm sure that when I have settled back down into playing for Essex we'll be spending a lot more time together and it will be back to the old days.
On the future: 'I would love to stay involved in cricket'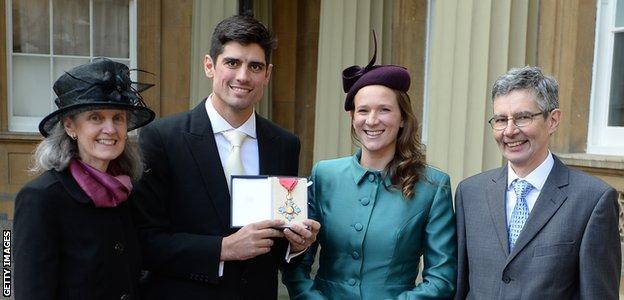 Cook has signed a three-year contract to play for Essex that begins in the summer of 2019. Away from the game, his wife is expecting their third child. Throughout his career, his escape from cricket has been to work on his father-in-law's farm.
What am I going to do? All these questions have been thrown at me. I have never done any media or coaching while I have played - it has all been fully focused on trying to score runs. I will have a look at that stuff when I have a bit of a break over the winter.
For these next six months, I am looking forward to not picking up a cricket bat and not worrying what fitness scores I'm going to get. I'll get away - that is something which our family needs to do.
Am I happiest on the farm or out in the middle? I am a cricketer, but the farm is a very special place and I absolutely love being in the countryside and getting away from the bubble. I like to think I'm a farmer, but there's so much experience that goes into that. I would love to stay involved in cricket as much as I would like to stay on the farm. It suits my personality.
For the final Test, I'll try to score some runs and everything else can take care of itself. I am determined to enjoy this week, focus on the ball when I'm batting and catch everything I can at slip. I will enjoy the privilege of playing for England one last time.
Alastair Cook's Ashes record

Tests

Runs

Average

Highest score

Series result

2006-07 in Australia

5

276

27.60

116

Australia

2009 in England

5

222

24.66

95

England

2010-11 in Australia

5

766

127.66

235*

England

2013 in England

5

277

27.70

62

England

2013-14 in Australia

5

246

24.60

72

Australia

2015 in England

5

330

36.66

96

England

2017-18 in Australia

5

376

47.00

244*

Australia

Overall

35

2,493

40.20

244*

Won four, lost three