Grant Bradburn: Scotland coach leaves to become Pakistan assistant
Last updated on .From the section Cricket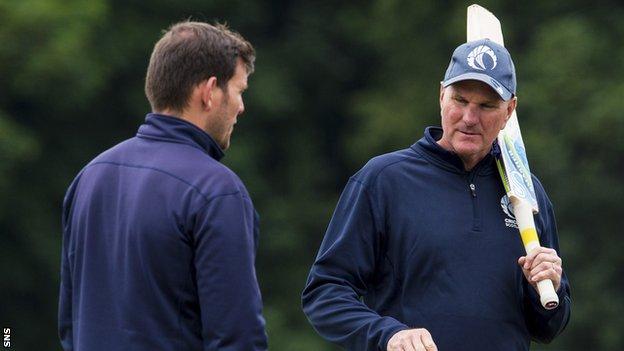 Grant Bradburn is stepping down as Scotland coach after being "head-hunted" following recent wins to become an assistant with Pakistan.
The 52-year-old New Zealander, who has been charge of Scotland for more than four years, has signed a three-year contract to become fielding coach.
The former New Zealand Test player led Scotland to the World T20 finals.
They also earned first-ever wins over four top-tier sides, including this year's one-day victory over England.
"It is a demonstration of the high profile the Scotland men's team has achieved through its continued success over recent years," said Cricket Scotland chief executive Malcolm Cannon.
"Grant leaves the team in a very good position to qualify for, and compete strongly in, the next two World T20 finals in 2020 and 2021."
Bradburn also believes that Scotland are in a good position to gain full membership of the International Cricket Council.
"I am extremely proud of the progress the national team and Cricket Scotland as an organisation have made, which makes it a difficult decision to step away at this time," he said.
"Perhaps the key thing I am most proud of, though, is the style of cricket our players are now confidently choosing to play.
"The brilliant fielding, coupled with an aggressive attitude towards playing positive, attractive, entertaining cricket, is a foundation for success and further growth of the game here in Scotland."
Bradburn replaces Steve Rixon as fielding specialist under head coach Mickey Arthur in time to join Pakistan's team in the United Arab Emirates for the Asia Cup.
He said it is "a great honour" to join the top-ranked T20 team in the world.
"I have seen the progress that has been made under Mickey Arthur and the opportunity to work with a leading full member team on the rise in world cricket is a real privilege," he added.