Three Day Inter-pro: Lightning and Knights share spoils
Last updated on .From the section Cricket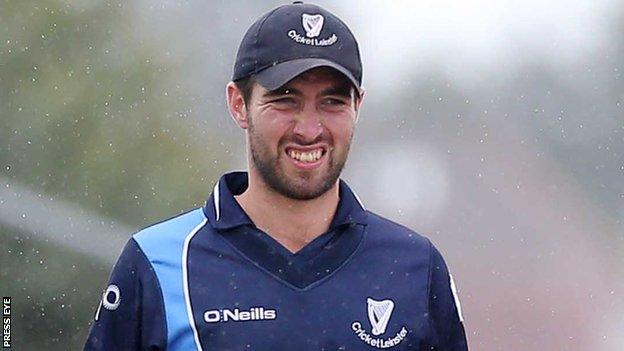 The Three Day Inter-pro game between Leinster Lightning and Northern Knights ended in a draw at Pembroke.
The final day's play was shortened due to rain with Lightning on 448-7 in reply to the Knights' 440-9 declared.
After the high scoring on the first day a draw was very probable but it was Lightning who gained the extra points by scoring more runs in their innings.
North-West Warriors had already won the Three Day title so there was nothing at stake in Dublin.
The Knights were runners-up to Lightning in the Twenty/20 competition but came last in the Three day and One Day Inter-pros.
North-West can add the One Day title in a 'winner takes all' game against Lightning at Rathmines on Sunday.
Northern Knights
First innings 440-9 dec (109.3 overs) J McCollum 93, M Adair 91, MP Ellison 64, H Tector 52; K McCollum 5-32, M Adair 3-33; S Singh 3-75, J Little 3-95
Leinster Lightning
First innings: 448-7 (125 overs) J B Tector 87, A Balbirnie 85, G Dockrell 55, L Tucker 41 no, J Dow 2-92
Match drawn