England v India: Alastair Cook was 'determined' to make a score
Last updated on .From the section Cricket106
England opener Alastair Cook said he was "so determined" to get "a score" in the fifth Test against India - his last before international retirement.
Former captain Cook, 33, was bowled for 71 on the opening day at The Oval as the home side closed on 198-7.
"There's nothing worse than going out without contributing," the Essex batsman told Sky Sports.
"I'm pleased I got a bit of a score, but I'm disappointed to get out when I did."
Cook was bowled by Jasprit Bumrah, precipitating a collapse as England fell from a well-placed 133-1 after winning the toss to 198-7 at the close.
India paceman Ishant Sharma took 3-28 as the tourists - who have already lost the series - took control.
Cook was afforded a special reception - including a guard of honour from the opposition.
"The guard of honour was such a nice gesture but you're focused on batting and you don't have time to appreciate it," he said.
"The reception I got was fantastic. It went on a bit and that makes you even more determined not to get out."
'Cook doubted his popularity - those thoughts were dispelled'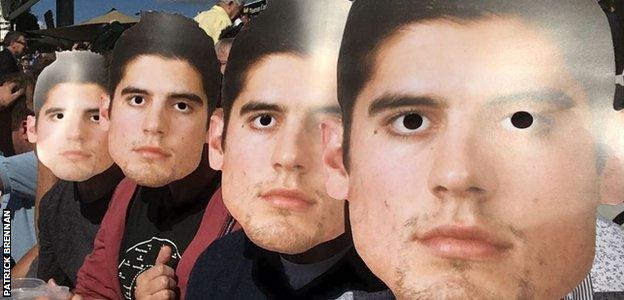 BBC cricket correspondent Jonathan Agnew: "On a personal level, it's so far been quite a nice farewell for Cook. Naturally, he would have wanted a hundred, but he would have settled for 71.
"I was on the same underground train as Cook as he travelled to the ground with Keaton Jennings. I thought that was a really nice touch, the two of them getting to the ground early in order to work together. Not a passing of the torch, but Cook helping the man who will get the first crack at succeeding him.
"When his innings came, Cook gave us a reminder of what he did best. Eking out the runs, tapping back the spinner, flicking the ball off his pads, and even the odd drive through the covers. It was typical Cook, even down to showing us a familiar weakness - getting his feet in a tangle to offer an edge off Ishant Sharma that was dropped.
"Throughout all of the fuss that has gone with his announcing his intention to retire, he has been calm and at ease. Still, even he would have had to have been pretty cool to control the emotions at the beginning of the day when he was receiving a guard of honour from India and wonderful ovation from the crowd.
"Very few players have the opportunity to say goodbye in this way. I know there were times in his career that Cook doubted his popularity as an England cricketer. Those doubts would have been completely dispelled by the reception he got this morning.
"Yes, there are other stories in this Test, but you can't help but focus your attention on Cook. We wait to see what he produces when he plays his final innings for England."
Hope, anticipation & disappointment - how Cook's day unfolded
When Joe Root won the toss for the fifth time in this series - to the mirth of Virat Kohli - Cook's brief was simple.
In front of an expectant full house, on a decent Oval pitch and under an autumnal sun, he was to set up England's chances of victory with a century.
It started with Cook walking to the middle through India's guard of honour.
Once play started, Cook survived the first hour without much trouble - to the growing delight of the England supporters who dressed for the occasion...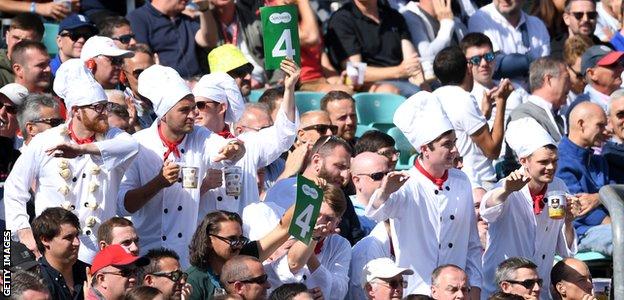 In fact, seemingly free of the shackles of pressure, the Essex man treated us to a few of his lesser-spotted shots in recent years...


England - and Cook - reached lunch in a healthy position. They were 68-1 after 28 overs, with the left-hander unbeaten on 37. While the players took a break, TMS aired Jonathan Agnew's in-depth interview with Cook reflecting on his storied career.
You can catch up on that here.
After lunch, the sense it would be Cook's day grew when he was dropped at gully by Ajinkya Rahane. The runs were flowing too...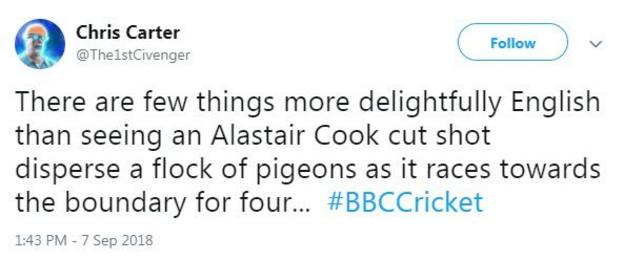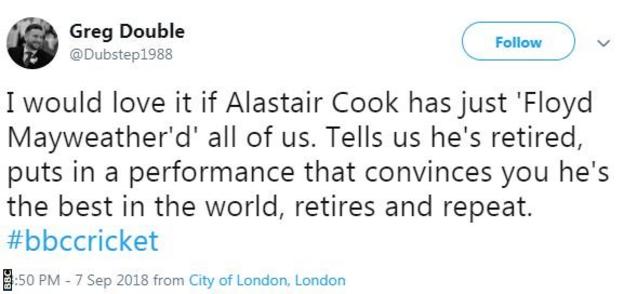 The half-century - only his second of 2018 - arrived with a punch back down the ground off Mohammed Shami and The Oval stood as one to applaud the achievement.
"The crowd is on its feet, it's fantastic," said Test Match Special commentator Daniel Norcross as two fans high-fived each other in the crowd. "Everybody is rising for Alastair Cook, which shows what great affection he is held in.
"A lot of people in the ground might never get the chance to see Cook bat again and they are making the absolute most of it."
Former England captain Michael Vaughan added: "Cook has reminded us of what he's done for 12 years - waiting for the bad ball and playing one of his three superb shots: off the hip, pull or cut.
"With a ball on off stump, he defends it. And that's how he has scored more than 12,000 Test runs. I'm delighted he's got a score."
It was set up beautifully.
Phil Tufnell's premonition - as told to TMS listeners earlier in the day - that Cook would be out first ball didn't materialise: he had been reprieved by a dropped catch and had seen off some good deliveries from the likes of Shami and his old nemesis Ishant.
But, just when the dream hundred looked on, Cook was bowled by Bumrah.
The crowd groaned, the India supporters cheered a much-needed breakthrough, and a spontaneous, heartfelt round of applause broke out from everyone inside the ground.
It wasn't to be on Friday but, as Tufnell pointed out on TMS, the all-too-familiar collapse that followed his departure at least guarantees he will bat again in the second innings.
Until then, he and England will continue to dream. And supporters will continue to pay tribute...