James Anderson: Glenn McGrath challenges England bowler to reach 600 Test wickets
Last updated on .From the section Cricket107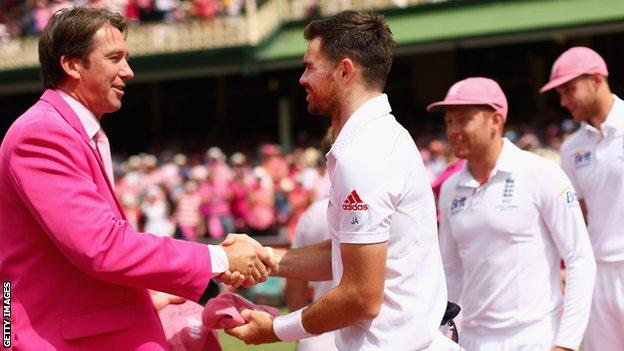 Glenn McGrath has challenged James Anderson to reach 600 Test wickets after the England paceman became Test cricket's most prolific fast bowler.
Anderson, 36, took the record from Australia's McGrath on Tuesday, and now has 564 victims to his name.
Only spin bowlers Anil Kumble (619), Shane Warne (708) and Muttiah Muralitharan (800) have more.
Speaking to BBC Radio 5 live, McGrath said: "If he can raise the bar to 600 wickets, that's an incredible effort."
Anderson beat McGrath's long-standing record in England's fifth Test victory over India at The Oval and the 48-year-old, who took the crown from West Indies great Courtney Walsh in 2005, added: "I was proud to hold it for as long as I did - for it to be beaten by somebody like Jimmy Anderson is great.
"I have a lot of respect for Jimmy. He's been an incredible bowler for a long time. To have played well over 140 Tests and just keep running in, day in, day out, and remain at the top of his game, yeah, I'm very proud Jimmy's got there."
'Anderson was one of two bowlers who could have taken my record'
When McGrath eclipsed Walsh 13 years ago, he set his sights on 600 wickets but failed to get there - retiring at the end of the 2006-07 Ashes series.
Coincidentally, his final Test wicket was Anderson, a player he believed could one day challenge the mark he had set.
"You always wonder whether anyone's going to get there," said McGrath. "There was probably two guys I thought about - one was Jimmy and the other was [South Africa's] Dale Steyn.
"Being a fast bowler is the toughest part of the game and injuries do play a part. To think that Jimmy's played for so long and continued at the top of his game shows his work ethic, his physical and mental strength and everything else that goes into it.
"When it comes to the art of swing bowling, there is no-one better. I think of somebody like Wasim Akram, who is one of the greats of all time, and he could just do anything with a ball.
"Wasim swung it both ways, was a left-armer and had power through the crease.
"Jimmy is different. He's taller and right-handed, but the way he swings a ball - both ways at will - is what sets him apart. It's definitely an art form and when the conditions suit - like they often do at Lord's when it's overcast and the ball is swinging - no-one comes close to him.
"Most guys hit the deck, get the ball in the right area and hope for a little bit of swing. We don't see people with the skills of Anderson too often."
Leading wicket-takers in Test cricket

Wickets

Average

Type of bowler

Muralitharan (SL)

800

22.72

Spin

Warne (Aus)

708

25.41

Spin

Kumble (Ind)

619

29.65

Spin

Anderson (Eng)
564
26.84
Pace

McGrath (Aus)

563

21.64

Pace
Will Anderson's record ever be broken?
Injuries have hampered Steyn in recent years and the 35-year-old is a long way back on 421 wickets - although his average of 22.64 is better than Anderson's (26.84).
His fellow Proteas paceman Kagiso Rababa is regarded as the best young fast bowler in the world, but McGrath doubts Anderson's tally will be beaten any time soon.
"If there is anyone out there, they have got a long way to go," he said. "I don't think we'll see it happen in the next decade.
"Just to play enough games to get anywhere near it is tough in itself. Other than Jimmy [143 Tests], no other fast bowler in the history of the game has played more than 132 Tests [Walsh].
"Also, the nature of cricket these days is that there is so much more Twenty20.
"The game is quicker, it's faster. And will bowlers play enough Test cricket in the future to get anywhere near the mark?"