Alastair Cook: England selector Ed Smith wants ex-captain as adviser
Last updated on .From the section Cricket70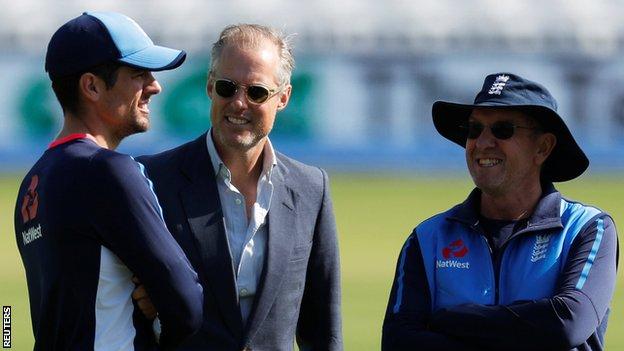 National selector Ed Smith says he wants England to continue to draw on Alastair Cook's talent in the future.
England's all-time leading run-scorer is playing in his final Test match after quitting international cricket.
But Cook, 33, will continue to play county cricket for Essex - and Smith believes he will be well-placed to take a closer look at players.
"It'll be terrific for England cricket to tap into him as a resource," he told BBC Radio 5 live's Sportsweek.
"I've had the odd chat with him about bowlers and batters this summer. But next year, maybe we can have something a bit more formal where he comes and really advises on the players he's been playing against.
"He's been a captain, a player and is the leading run-scorer in history. He's a calm, balanced and fair person - so I think we've got to try to tap into that knowledge and wisdom.
"It doesn't necessarily have to be that structured - maybe someone who people know they can talk to as a trusted adviser."
Cook, who scored more than 12,000 runs and made 32 centuries in 160 Tests for England, has signed a new three-year deal with Essex.
Keith Fletcher, another former England and Essex batsman, said Smith's suggestion to utilise Cook's knowledge was "a very good idea".
"Hopefully, he's going to play for Essex for another few years and he's going to be out there nailed on as a batsman playing against all the counties' best bowlers - and there's nothing better than playing against someone to see how good they are," he told Sportsweek.
"Alastair will be able to see how good the opposition bowlers we play against are, and he's also going to see batters who are going to come up against our bowlers as well."
'I really stuck my neck out with Buttler' - Smith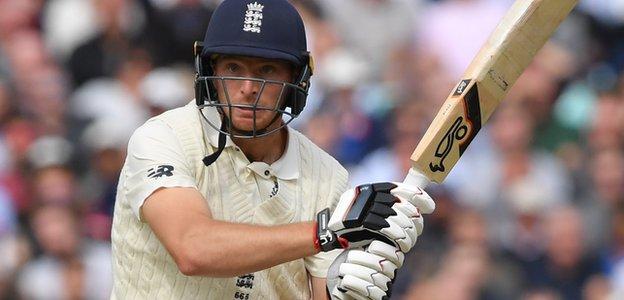 Smith was also a guest on Test Match Special on Sunday, speaking to Jonathan Agnew during the lunch break.
Here are his views on the recall of Jos Buttler, England top-order problems and the potential of resting seam bowlers James Anderson and Stuart Broad this winter.
Listen to the extended interview

here
On Buttler: "I really stuck my neck out to select Buttler. To me, he is one of England's best cricketers. Everything that's happened this summer I can honestly say is no surprise to me.
"If you ask me who are England's best and most remarkable cricketers, he is very near the top with the likes of Joe Root, Jonny Bairstow and Ben Stokes. I had a high degree of confidence in him as a cricketer.
"Watching him for England and in the IPL, I could see he had the capacity and intelligence to adapt and learn, and he was developing at a very fast rate.
"Whatever the opposite of hit and hope is, that's what he was doing. I felt certain - not confident, certain - that he should be in the Test team."
On England's top order: "I believe strongly that the captain is always a key, key person.
"If the captain feels the best thing for the next innings is putting someone else at number three, then do it. Go for it.
"That's how I think the best cricket teams are run. The selectors do not say 'you're going to bat there'.
"The captain should always have that say."
On the potential of managing the workload of senior players: "No decisions have been made on the make-up of the winter tour.
"It is something we would consider, mapping out in consultation with senior players, what is the best way to manage them moving forward.
"However if the medical advice, players themselves and the management team believe the workload is manageable, we might stick as we are."