Prithvi Shaw: Big figures at a young age
Last updated on .From the section Cricket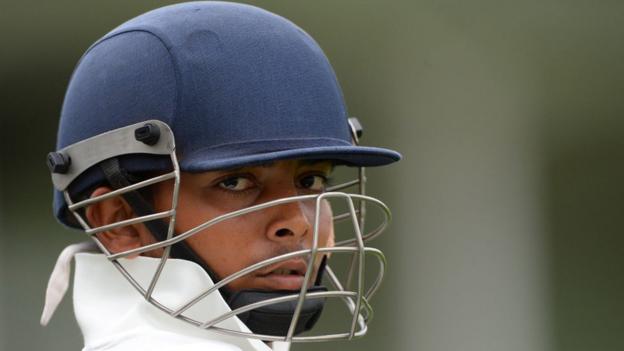 Prithvi Shaw has made a century in 99 balls on his Test debut for India against West Indies - ultimately finishing with 134. Who is the cricketer who has long been thought to be India's next great batting superstar?
India's 293rd Test cricketer made his debut in Rajkot - and it was a debut many had been waiting for for some time.
They were not disappointed. In his very first innings at Test level, Prithvi Shaw scored century at a rate of over a run a ball.
He was advised by team-mate Ajinkya Rahane and coach Ravi Shastri not to change the style that had already seen him score over 1,400 runs in just 14 first-class matches - at an average of 56 and a strike rate of 75. It was good advice.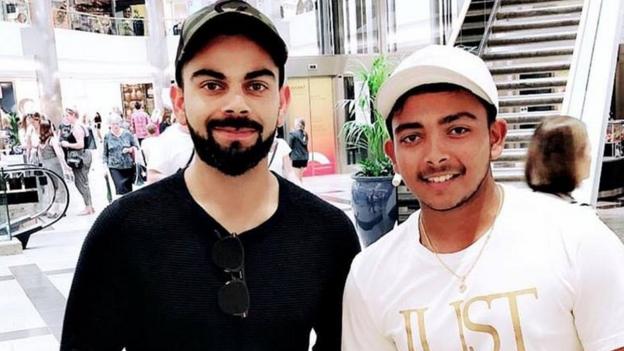 Three runs came from his first ball. Then he really went to work.
Straight drives, cover drives, off-drives, square cuts, leg glances, cuts, sweeps. They were all on display. Within 56 balls he was at a half century.
And then he accelerated. His 100th run came just 43 balls later.
Ultimately he was out on 134, caught and bowled by a frazzled Devendra Bishoo. But he had become the youngest Indian batsman to score a century in their first Test, and the 15th overall.
But for many watching, it was not a surprise - more a pleasant fulfilment of their expectations.
Because Shaw has been tipped for greatness for a long, long time.
As far back as 2013, the BBC's Hindi Service were interviewing him as it became clear he was quite some talent at schoolboy level.
Shaw, who lost his mother at the age of four, grew up in Virar on the outskirts of Mumbai.
At the age of eight, he was admitted to the Rizvi School of Bandra, to make his career in cricket.
His journey to and from school in those days was a four hour round trip - a journey he made every day with his father.
"It was difficult but my dad was there with me," Shaw has said, recalling that time.
"We had a group of train friends. It was a two hour journey, but I enjoyed it. There would be singing and card games."
His promise was obvious and he was an irresistible pick for his coaches.
By 14, he had become the youngest cricketer to score a century in the A Division.
And in December 2014, he scored a record 546 runs for his school.
He soon moved to become the captain of the Mumbai Under-16 team. Then his country first called - naming him as captain for the under-19 World Cup in New Zealand.
In January 2018, Delhi Daredevils came calling in the IPL auction - snapping him up for six times his base price.
When he made his debut for them, against Kings XI Punjab, it made him the youngest cricketer in the history of IPL. He hit 22 off 10 balls - something that would be reflective of his first season; not huge runs, but a sensational strike rate.
He finished with 245 from nine matches at an average of 27.22, with a strike rate of 153.1.
Former cricketers have leaped in to praise Shaw after his sensational start to Test cricket, from Verender Sehwag - like Shaw a debut centurion:
To VVS Laxman:
And Sanjay Manjrekar: