Ball-tampering affair: Cricket Australia chairman David Peever resigns
Last updated on .From the section Cricket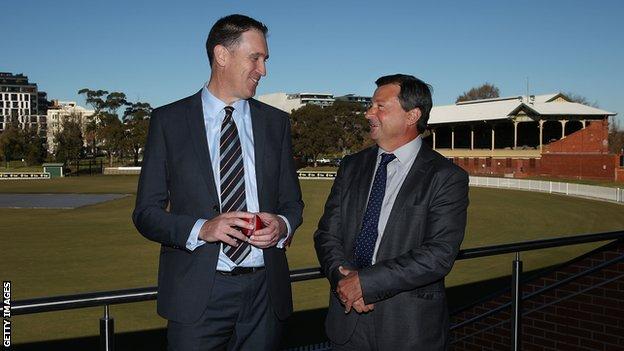 Cricket Australia chairman David Peever has resigned following a scathing review into Australian cricket after the ball-tampering scandal.
A report described the body as "arrogant and controlling" and partly to blame for the incident in a Test match against South Africa in March.
Players Steve Smith, David Warner and Cameron Bancroft were banned.
Interim chair Earl Eddings said Cricket Australia needed to "earn back the trust of the cricket community".
The 145-page review was conducted by Sydney-based not-for-profit organisation The Ethics Centre.
Immediately following the review's publication on Monday, Peever, who had recently been re-elected for another three-year term, said he was still best placed to oversee the changes, but subsequently came under increasing pressure to resign.
"We look forward to continuing the important process of recovering and rebuilding for Cricket Australia and Australian cricket," said Eddings.
"The board is keenly aware that we have a way to go to earn back the trust of the cricket community. We and the executive team are determined to make cricket stronger."
Smith, captain at the time, and Warner, his vice-captain, are seven months into one-year bans for orchestrating the plan, while Bancroft, who carried out the cheating on the field in South Africa, will be eligible to return in December.
As well as bans for three players, the incident also hastened the departures of coach Darren Lehmann and Cricket Australia chief executive James Sutherland.
Players' union the Australian Cricketers' Association says Smith, Warner and Bancroft should now have their bans lifted.
The ACA also called for the "urgent" implementation of all 42 recommendations in the report, which included complaints from those involved in the sport of a bullying culture in elite men's cricket.
Among the recommendations was an anti-harassment code to stop sledging, and training to improve team leaders' "moral courage".
The review condemned a "winning without counting the costs" culture that left players in a "gilded bubble".
Cricket Australia said it would accept most of the report's recommendations.