Sri Lanka v England: 'Pugnacious Jonny Bairstow grabs his chance'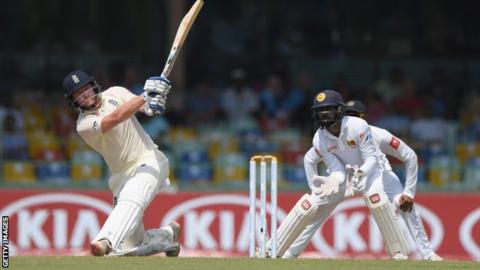 The opportunity to bat at number three in the final Test against Sri Lanka was a dangling thread of a chance for Jonny Bairstow to make a swift return to the England side.
Though that was something he denied after making a fine century of the first day in Colombo, the fact is that playing a specialist batsman coming in at the fall of the first wicket was the only vacancy Bairstow could have filled.
That he played such an outstanding innings was typical of Bairstow's determined, pugnacious character. His knock carried the tourists to 312-7 - a position that should have been stronger but still one from which they have a decent chance of sealing a 3-0 series whitewash.
We are used to seeing the free-scoring, shot-playing Bairstow, a man who had never before made a Test hundred batting higher than number six.
Here, he played as he would have done anywhere in the order, scattering the fielders from close positions after England found themselves 36-2.
It is worth remembering Bairstow had not played cricket for more than a month, having been sidelined by an ankle injury sustained in one of England's regular games of football. That he was able to overcome the broiling heat is testimony not only to his bloody-mindedness, but also the conditioning work he must have done.
England have had as many problems filling the number three position as they have finding an opener. Bairstow is the 10th man tried since Jonathan Trott last batted there in 2013.
He literally ran to the middle to grab his chance and promptly hit his first ball for four. What followed was a chanceless knock. It was excellent stuff.
Much will be made of Bairstow's emotional celebrations that greeted the century - a fist-pumping yell that involved dropping his bat to the ground. The same goes for his end-of-day comments where he claimed to have been "castigated" because of his injury.
Yes, the celebration was unusual, full of frustration and anger - but it also came after he had cooked under a batting helmet for hours on end. If Bairstow was a little overwhelmed at reaching the milestone, then he can be forgiven.
His roar seemed to be directed at the media centre. If it was, that might have been a little misplaced because Bairstow actually has a great deal of support among press and broadcasters.
There's probably a little context to be added, too.
In Bairstow's mind, he lost his place through no fault of his own. His ankle injury came in a game of football, which it has been team policy to play as a warm-up for more than three years now.
For those on the outside looking in, there is a split in opinion on the football. I take the view that it's not something that an international cricket team should be doing.
And so Bairstow found himself out of the side, watching as Ben Foakes took his place as wicketkeeper. Even though Bairstow was the first to congratulate Foakes on making a century on debut, the Yorkshireman must have been quite angry that he couldn't find an immediate way back for the second Test.
When the chance came in this third Test, Bairstow grasped it - then all of the feeling came out.
Incidentally, Bairstow has given up playing football, instead preferring to referee from now on.
There was a conversation on The Cricket Social about whether Bairstow is at his best when he has his back to the wall, feeling like he has something to prove and with critics to silence.
I actually think the opposite. He thrives when people believe in him, so wrapping an arm around his shoulder is something England may have to do from now on.
Yes, batting at number three in Sri Lanka will be very different to facing Australia at Edgbaston in the first Ashes Test next summer, but there is no reason why Bairstow can't remain there for a long time.
In general, you need a tighter technique to be a successful number three, but that is not to say that Bairstow is too loose. He may want to look at some aspects of his game - for example, he sometimes has the habit of being bowled between bat and pad - but he is skilled enough to iron out that kink.
After the first day in Colombo, England may feel they haven't quite taken full advantage of Bairstow's efforts. They played some loose strokes on a pitch that did not start to turn until later in the day.
Still, if they can get to 400 on the second morning, they will be in a very good position.
Somehow Sri Lanka are still in the match, even though they had a poor day of wasting reviews, dropping catches and getting angry with the umpires.
Despite all that, they could work their way into the contest if they quickly mop up England's tail on Saturday.