County Championship: Surrey to start 2019 season against Essex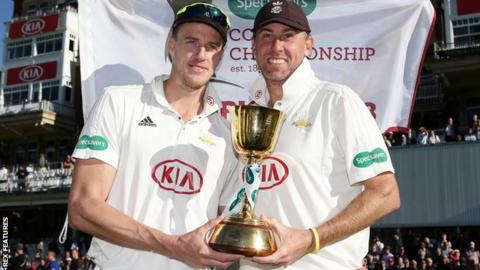 County champions Surrey will start their defence of the title with a home match against predecessors Essex.
The Championship season will begin on 5 April, eight days earlier than in 2018, with three games in each division.
Surrey will play an MCC XI in Dubai from 24 March in the traditional season curtain-raiser, with their game against Essex following on 11 April.
Only one team will be relegated next summer, with three promoted, and the final games will start on 23 September.
Surrey's game against Essex is a repeat of their last match of 2018, when they suffered their only defeat of the summer by one wicket after a thrilling final day at The Oval.
Promoted Kent will travel to Taunton on 5 April for their first Division One game since 2010, and are then away to Warwickshire, who won the Division Two title this summer, the following week.
Opening round of 2018 County Championship fixtures (5-8 April)
Division One: Hampshire v Essex, Nottinghamshire v Yorkshire, Somerset v Kent
Division Two: Derbyshire v Durham, Northamptonshire v Middlesex, Sussex v Leicestershire
Week 2 Championship fixtures (11-14 April)
Division One: Hampshire v Yorkshire, Nottinghamshire v Somerset, Surrey v Essex, Warwickshire v Kent
Division Two: Durham v Sussex, Glamorgan v Northamptonshire, Gloucestershire v Derbyshire, Leicestershire v Worcestershire, Middlesex v Lancashire
Because England are hosting the World Cup next summer, more Championship games will take place at out grounds.
Yorkshire will play a Championship game in York for only the second time, and the first time for 128 years, when they play Warwickshire at Clifton Park from 17 June.
"Our options were York or go to Scarborough on three occasions," chief executive Mark Arthur told the club website.
"For our membership, York is our second largest catchment area outside Leeds. The fact it is a one off will capture the imagination of the public."
Hampshire, meanwhile, will play on the Isle of Wight for the first time since 1962 when Nottinghamshire provide the opposition at Newclose CCG from 20 May.
Lancashire will take on Leicestershire at Liverpool, starting on Monday 3 June, their first visit there for five years, while Middlesex will stage a Championship match at Radlett for the first time when they face Glamorgan two weeks later.
The Welsh club will play three Championship fixtures away from Cardiff instead of the usual two because Sophia Gardens is being used as a venue for the World Cup.
There will be no day-night Championship fixtures in 2019 and, following the second round of matches ending on 14 April, there will be no further four-day cricket for a month because of the One-Day Cup, which has been brought forward in the schedule.
Next season will be the last before the introduction of the England and Wales Cricket Board's new 100-ball competition in 2020.
The entire One-Day Cup competition will be played in the space of 38 days during the first eight weeks of the season, with the final taking place at Lord's on Saturday 25 May, more than a month earlier than 2018.
The opening group games will be played on 17 April, with holders Hampshire away to Kent in a day-night fixture at Canterbury in a repeat of the 2018 final.
Opening One-Day Cup group games (17 April)
Durham v Northamptonshire, Glamorgan v Essex Gloucestershire v Surrey, Kent v Hampshire, Lancashire v Worcestershire, Yorkshire v Leicestershire
Meanwhile, Finals Day in the T20 Blast has been pushed back a week and will be staged at Edgbaston on Saturday 21 September.
Holders Worcestershire Rapids begin their defence at Notts Outlaws on Thursday 18 July, with Middlesex against Essex at Lord's and Glamorgan versus Somerset the other opening-day fixtures.
The only Roses matches in 2019 are in limited-overs cricket following Lancashire's relegation to Division Two of the Championship, with their first game against rivals Yorkshire in the One-Day Cup at Headingley on Sunday 21 April.
The two T20 meetings take place on Thursday 25 July at Headingley, with the reverse fixture on Friday 9 August.
Fixtures by county