Glamorgan Cricket: Billy Root targets first-team breakthrough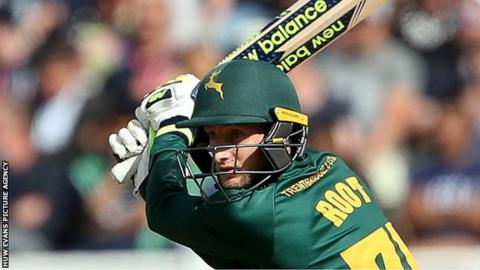 Glamorgan new signing Billy Root says he has joined the Welsh county in search of more first-team cricket.
Root, brother of England captain Joe, is a 26-year-old batsman and off-spinner who has signed a two-year deal in Wales after agreeing his exit from Nottinghamshire.
"I felt I was playing well but not really getting much of an opportunity at Nottingham," said Root.
"I decided a move might be good and Glamorgan was the one that came at me."
Root has been brought in as part of the county's efforts to bolster an inexperienced batting line-up, after they slumped to the bottom of the Championship second division and parted company with coach Robert Croft.
The Sheffield-born left-hander averages 30-plus with the bat in all three formats of the county game, with top scores of 133 in first-class cricket and 107 not out in limited-overs.
"I had a second team game here (at Sophia Gardens) just before the end of the season and the place really sold itself," he told BBC Sport Wales.
"I've always been in and around a strong squad at Yorkshire and Nottinghamshire, a lot of the time I had to wait my turn.
"But haven't had many Championship opportunities."
Root describes Glamorgan's full-strength Championship bowling attack as "good as any in the first division", and is keen to play in all three formats.
"When we're in a block of T20, it's hard not to get caught up in that and really enjoy each game, but the traditional side, the Championship really appeals to me and ... hopefully there will be a good place for 50-overs cricket in years to come.
"I'd say I'm a busy batsman, I like to hit the ball and run a lot, but I'm always looking to work on different areas."
His last first-team experience in Cardiff saw Root as a frustrated drinks carrier, on 12th man duties as Nottinghamshire were held to a draw in 2017.
He should spend more time in the middle in 2019, and is also hoping to catch big brother Joe in action when England play in the World Cup in Cardiff in June - after attending his wedding in December.
The pair, together with father Matt, also run a cricket academy in their native Yorkshire.