Samit Patel: Glamorgan sign Nottinghamshire's ex-England all-rounder on red-ball loan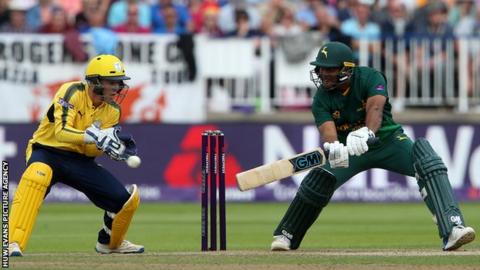 Glamorgan have signed former England all-rounder Samit Patel on loan from Nottinghamshire to help boost their County Championship promotion bid.
Patel, 34, has played all three formats for England, including six Tests.
While remaining a Notts T20 player, he will be in the Glamorgan squad to face Division Two leaders Lancashire at Colwyn Bay, starting this Sunday.
Glamorgan are second in Division Two, 28 points behind the visitors - level with third-placed Gloucestershire.
After his four-day debut for Glamorgan, Patel will remain available for selection by third-placed Notts in their final four T20 group fixtures - and the quarter-finals and Finals Day, should they make it.
He will then prepare for Glamorgan's final three Championship games, against Worcestershire at New Road, at home to Leicestershire at Sophia Gardens, then against Durham at Chester-le-Street.
"Once it was decided that Samit wouldn't be playing for us against Yorkshire at Scarborough, there was absolutely no reason not to let him go out on loan and play some first-class cricket," said Notts director of cricket Mick Newell.
"It's a higher standard than the second team and we can recall him ahead of future matches should we decide we want to pick him. Glamorgan were keen to take him on loan and Samit was keen to go, so hopefully it's something that works well for all three parties."
Patel seeks 'positive end in both formats'
Patel has made 12,295 first-class runs at an average of over 35 and taken 332 wickets from his left-arm spin, but he has struggled to make an impact this season for Notts, who currently sit bottom of Division One.
He has played all but one of their ten Championship games, but has taken only seven wickets at 55.86 and is averaging 17.20 with the bat.
Glamorgan director of cricket Mark Wallace said: "Samit brings a lot of experience to the squad which could prove vital as we get to the business end of the competition.
"Samit is a fine batsman who has played match-winning knocks throughout his career and also gives us an extra spin-bowling option."
"I'm grateful to Glamorgan for the opportunity," said Patel. "Knowing in advance that I'm set to miss out on selection for Scarborough has given Glamorgan time to come in for me on a loan deal.
"I'll keep giving it everything for Notts in the Blast, so overall I'm looking forward to a positive end to the season across both formats."