End-2-End: Isle of Man race reaches full capacity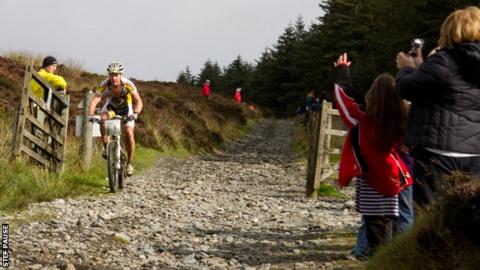 The End-2-End mountain bike race on the Isle of Man has reached full capacity within a week of registration opening for the 46-mile challenge.
In 2011, the sheer volume of cyclists wanting to compete saw organisers increase the event's capacity to 1,700.
Organiser Steve Honeybone said: "The level of interest is amazing but we have to cap it for the riders' safety."
More than 650 riders will travel to the island to compete in the race on Sunday 9 September 2012.
Honeybone continued: "We expect the course to remain the same but we are looking at some exciting ways of making it into more of a weekend event.
"More than 600 cyclists will be travelling to the island for the challenge, so it makes sense to explore possibilities for the Saturday."
The race, which began as a group of friends cycling across the island for fun, now attracts riders from all over the world.
In 2011 former Olympian Nick Craig won his fourth consecutive title.
Despite heavy rain in the morning, the 42-year-old from Hayfield, Derbyshire, finished the race in two hours, 53 minutes and 17 seconds.
He says he will be going for a fifth consecutive title in 2012.
"It is a great challenge and every year the number and quality of the riders chasing me is increasing.
"To see that amount of cyclists all lined up at the start is a breathtaking sight and to know they are all chasing me down makes me a bit faster. I will definitely be going hard for number five."
Neal Crampton finished second with Matt Clinton third. Elliot Baxter was the leading Manx rider coming home in fourth place. Jacqui Fletcher won the ladies race with a time of 3:50:00.
More riders completed the course than ever before, with 1,063 competitors cycling from the Point of Ayre in the north of the Island to Cregneash in the south.