Alberto Contador's team could lose Tour status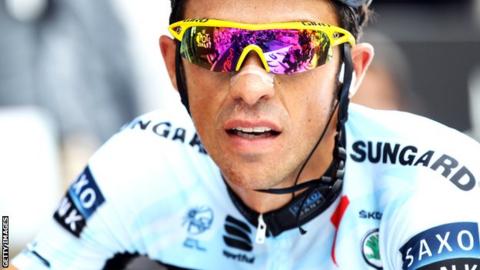 Alberto Contador's Saxo Bank-SunGard team could be thrown off the World Tour after the Professional Cycling Council wiped the banned Spaniard's points from the team's 2010 and 2011 record.
Contador has been banned for two years after testing positive for banned substance clenbuterol.
His 2011 points contributed 68% of the Danish team's total haul for the year.
Without them the Danish outfit's total may not be sufficient to qualify it among the world's top-ranked teams.
The 29-year-old Spaniard was found to have traces of clenbuterol in urine tests taken during the 2010 Tour de France, and his explanation - that he was the victim of eating contaminated meat - was not accepted by cycling's governing body.
As well as having his 2010 Tour de France win struck from the record, none of Contador's successes in 2011 - including his victory in the Giro d'Italia - are any longer recognised.
"The International Cycling Union will today [Friday] ask its Licence Commission to issue a ruling on whether the Saxo Bank-Sungard team should retain its place in the UCI World Tour," a UCI statement said, as the organisation met in Geneva.
"If the points obtained by Contador, representing approximately 68% of the Saxo Bank-Sungard team's total points, are disregarded, his team would no longer be considered to fulfil the sporting criterion required for the Tour."
Contador has always maintained his innocence but has begun to serve a ban of two years, applied retroactively from 25 January, 2011.
His suspension will run until 5 August, meaning the three-time Tour de France champion will miss this year's event as well as the London Olympics.
However, his ban finishes before the start of his home tour, the Vuelta a Espana, which is scheduled to run from 18 August to 9 September.