Steve Cummings faces Olympic fitness battle after breaking pelvis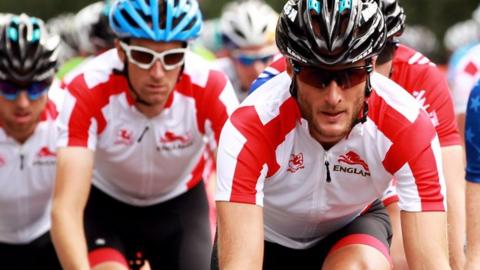 Steve Cummings has broken his pelvis in a crash on the third stage of the Tour of the Algarve in Portugal.
The 30-year-old now faces a battle to be fit in time for the Olympics, where he is a key part of the Great Britain road race team led by Mark Cavendish.
"We were going down a little hill and this guy came from under me and hooked my handlebars. I didn't see it coming," Cummings said of Friday's crash.
His team, BMC Racing, say Cummings will be out "for at least a month".
However, a longer rehabilitation period can be expected after that. The Olympic road race takes place on 28 July.
Cummings, who won the same stage of the Algarve event with Team Sky last year, tried to put a brave face on the situation, adding: "You know what they say: what doesn't kill you, only makes you stronger."
Birkenhead-born Cummings was a key member of the eight-man team that helped Cavendish to World Championship road race glory in Copenhagen last September.