We're clean, says Team Sky after 'drug risk' list leak
Last updated on .From the section Cycling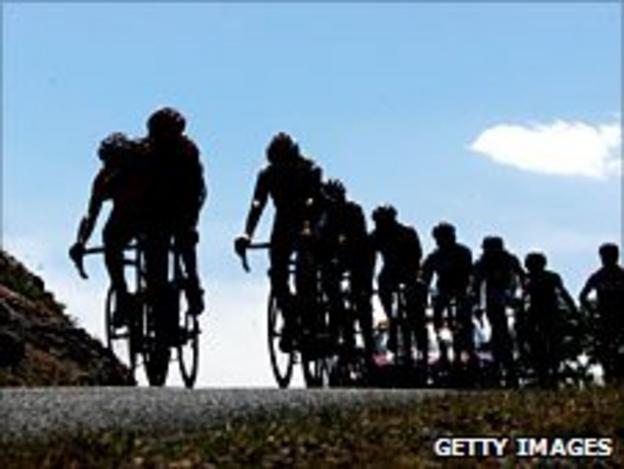 Team Sky insisted all their riders were drug-free after a leak revealed that cycling's governing body drew up a list estimating the 'doping risk' of each entrant in last year's Tour de France.
"Team Sky is clean," the British team told the BBC, adding they had "total confidence" in their riders' behaviour.
"We will be writing to the UCI today [Friday] to seek immediate clarification from them on this index."
The list rated riders from 0 - not suspicious - to 10 - highly suspicious.
The report suggested that 156 riders showed "little or no risk" of doping, with 42 riders among the "suspect" categories.
The UCI said it was purely to help guide testing and was not a list of riders who have done anything wrong.
A UCI spokesman said: "The document was meant for the UCI and independent observers of the World Anti-Doping Agency.
"We will investigate to see how such a document has leaked."
They also stressed that suspicion did not equate to a rider's guilt.
"It is essential to note that the list is liable to be interpreted in an incorrect and prejudicial manner
"It contains only an initial summary assessment of the results of the analyses for the sole purpose of establishing an order of priorities for testing and therefore cannot under any circumstances prejudge the possible guilt of the persons whose names appear on the list.
"Whatever the assessment of the appropriateness of testing a specific rider, the list does not justify any suspicion or condemnation."
Earlier, Tour de France director Christian Prudhomme insisted that the list was merely a tool in the fight against doping.
"There is no secret file. There is a list made for one of the three international federations (the UCI), who have taken the biological passport, that is to say a tool, certainly a bonus in the fight against doping," said Prudhomme.
"Because cycling is a forerunner, with its international authorities that a list, not secret, but working, exists.
"You musn't turn things around and associate the word suspicion with a discipline which is fighting, precisely because it is fighting. Only those who have a biological passport can have such a list."
The list's existence was revealed by French newspaper L'Equipe.
Isle of Man sprinter Mark Cavendish said on Twitter: "So there's a leaked 1-10 'suspicion' scale... So now EVERYONE'S suspicious, but just HOW suspicious?!"
Scotland's David Millar, who is riding for Garmin-Cervelo in the Giro d'Italia, said "heads should roll" at the UCI for the leak.
"It's shocking. I understand that that list should exist, that's what targeted testing is about," said the Scot, who was banned for two years in 2004 after admitting taking a banned performance-enhancing substance.
"But this list should never have been released. The UCI, some of their people should be fired for this, a major investigation should go on into what exactly they are doing with this model.
"I understand I'm number four because of my misdemeanours in the past, but this list just does not add up."
Tour de France race director Christian Prudhomme said the existence of the list should be seen in a positive light because it underlined how seriously cycling is taking the fight against doping.
"It's because cycling is a frontrunner [in the fight against doping] that there is a list," Prudhomme said.
"There is no secret index. There is a list made by one of the only three international federations that uses the biological passport. A tool, certainly a plus, in the fight against doping."
Former Cofidis rider Cedric Vasseur, who was president of the riders' union before resigning two years ago, mocked the UCI on his Twitter account.
"I guess next year UCI will indicate the risk level of each rider on his bike with an 'Approved by UCI' stamp...Same for the Team cars..," he said.
Vasseur was banned from the 2004 Tour while under investigation for suspected doping and later cleared.
Riders who were ranked in the five lower categories warranted barely any scrutiny, with perhaps only one biological parameter giving scientists reason for concern.
The samples of riders in category five warranted "precise, and sometimes more affirmative commentary" from scientists, said the report, suggesting they may have been involved in some kind of manipulation.
Those in categories six to 10 showed "overwhelming" evidence of some kind of doping, due to "recurring anomalies", "enormous variations" in parameters, and even the "identification of doping products or methods", according to L'Equipe.
The paper noted that the scores attributed to each rider "did not constitute proof" of any doping or wrongdoing.
The average score of the 198 riders was 2.434.
The score was worked out after blood samples taken two days before the Tour were compared with evidence already available on the riders' biological passports.
UCI president Pat McQuaid declined to comment on the matter.