UCI denies Tyler Hamilton's Lance Armstrong doping claim
Last updated on .From the section Cycling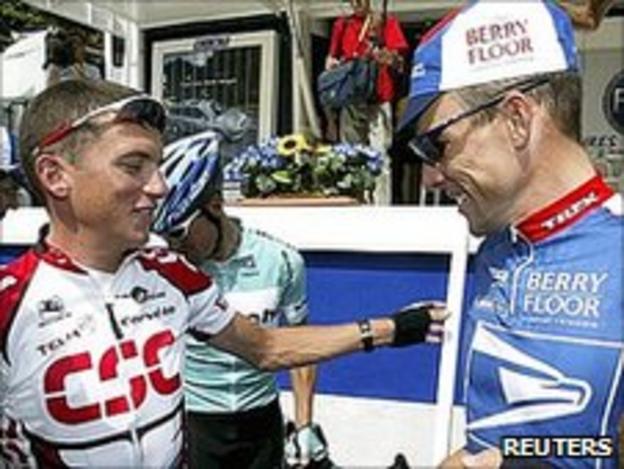 The International Cycling Union (UCI) has rejected claims it helped seven-time Tour de France winner Lance Armstrong conceal a positive drug test.
Former team-mate Tyler Hamilton alleged Armstrong tested positive in 2001 but "figured out a way for it to go away" through a deal with the UCI.
"The allegations are completely unfounded," read a UCI statement.
"The UCI can only confirm that Lance Armstrong has never been notified of a positive test result."
Hamilton, who retired in 2009 after receiving an eight-year ban for a second positive doping test, has given evidence to a federal inquiry investigating claims of doping amongst the former US Postal team.
Hamilton told CBS's 60 Minutes programme that Armstrong tested positive for EPO, a performancing-enhancing hormone, during the 2001 Tour of Switzerland, but escaped punishment after coming to an arrangement with the sport's governing body.
"The UCI can only express its indignation at this latest attempt to damage the image of cycling by a cyclist who has not hesitated to abuse the trust of all followers of cycling on several occasions in the past," said the UCI.
"At no time did he see fit to inform the UCI of the events he claims to have witnessed 10 years ago, and which he is now using in his attempt to harm the UCI.
"The UCI will continue to defend its honour and credibility by all means available, and reserves the right to take any measures it deems necessary against Mr Hamilton or any other person.
"The UCI confidently awaits the results of the inquiry being conducted by the US justice system.
"It hopes that the investigations may be concluded swiftly and the truth ascertained, so that the sport of cycling may be spared further unnecessary damage."
Armstrong used his Twitter feed to hit back at Hamilton's allegations on Friday.
"20+ year career. 500 drug controls worldwide, in and out of competition. Never a failed test. I rest my case," he wrote.
Mark Fabiani, a spokesman for 39-year-old American, went on to claim that CBS had "demonstrated a serious lack of journalistic fairness and has elevated sensationalism over responsibility" in the prominence it had given Hamilton.
The website used to release Fabiani's statement, www.facts4lance.com, also claimed Hamilton is seeking publicity to attract a publisher for a book he has written.
Armstrong, who announced his retirement from competitive cycling earlier this year, was among 16 riders and officials accused of doping by Floyd Landis, another disgraced former US Postal team-mate, in 2010.