Welsh cyclist Geraint Thomas riled by leaked drug list
Last updated on .From the section Cycling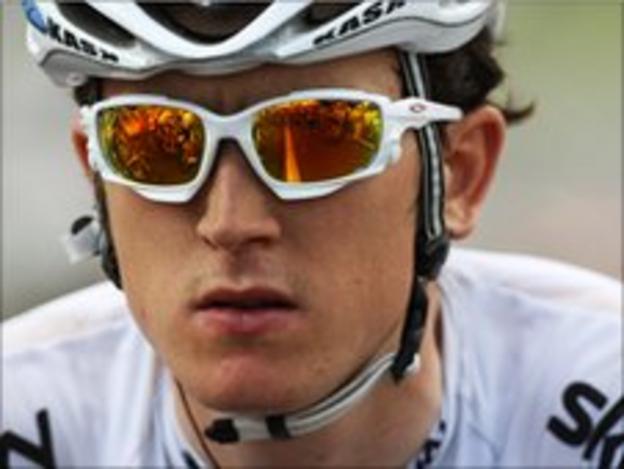 Olympic gold medallist Geraint Thomas says drug-testers can visit him anytime after his name appeared on a list of cyclists ranked on suspicion of doping.
The list of 'doping risk' was leaked to French newspaper L'Equipe.
The International Cycling Union (UCI) document gives competitors a score of zero to 10, with zero being no suspicion and 10 the maximum suspicion.
Thomas, ranked six out of 10, said: "They can come and test me any day - I've got nothing to hide."
The issue has left 2008 Beijing Games team pursuit gold winner Thomas perplexed and angry.
He said his initial reaction was to laugh, but the seriousness of the situation soon changed his emotions.
"Obviously afterwards you're quite angry at the fact they released that with no real evidence behind it and your name's tarnished a bit as well then because of it," said Thomas, who celebrated his first major road race win at the end of May with victory at the Tour of Bavaria
"So it's not the nicest thing to have, but I haven't been tested any more than usual either.
"So if I'm seen as suspicious I definitely want them to test me more, as well as everybody else [on the list]."
Thomas, 25, says he has had no explanation from the UCI about the reasons behind the list.
His employers, Team Sky, wrote to the governing body expressing their concerns and the UCI stressed that suspicion did not equate to a rider's guilt.
But that did not impress Thomas, who said: "It's a bit crazy, really. The governing body for cycling is definitely moving in the right direction and we're catching cheats which is great.
"But I think they're still a bit amateurish in some of the things they do.
"I'm happy, whatever. They can come and test me any day - I've got nothing to hide or anything."
As an elite performer, Thomas lets United Kingdom Anti Doping, who act on the World Anti Doping Agency's rules, know his whereabouts for testing purposes.
"They can come whenever they want," he added.
"But they haven't so I just find that a bit strange - it's just annoying that it's leaked and it's given everyone a bad name and it's not no good for cycling either.
"It's so much better now than what it was 10 years ago. I think it just gets a lot of bad press, really."